Previously… yesterday the new 2.2 version of Reeder came out and amongst bug fixes and a couple of visual twiddles, the reason to remark was that it added background refresh. (Where instead of my getting the app to add the latest news whenever I open it, the app itself does that continually through the day.) I wondered whether this would work and whether it would make any difference if it did. Now read on.
It worked.
It makes a big difference.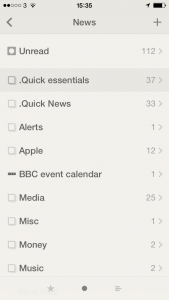 On the one hand it's slightly disappointing because I'm used to the anticipation of waiting to see if there's anything new to read and now I just know at a glance. But it's unexpectedly faster. Logically, rationally, it can't be saving me more than a few seconds compared to when I would have to wait for it to update in front of me, but it feels faster. Much faster.
I'm also reading more because of it. I find I clear down all the remaining articles and then the next time I pick up my iPhone, there's an unread news notification. Who can resist?
Reeder for iOS is a universal app (so it's for both iPhone and iPad) and costs £2.99 UK or $4.99 US. The Mac version is currently still free in beta but the finished and to-be-paid-for version was reportedly submitted to Apple about a week ago.