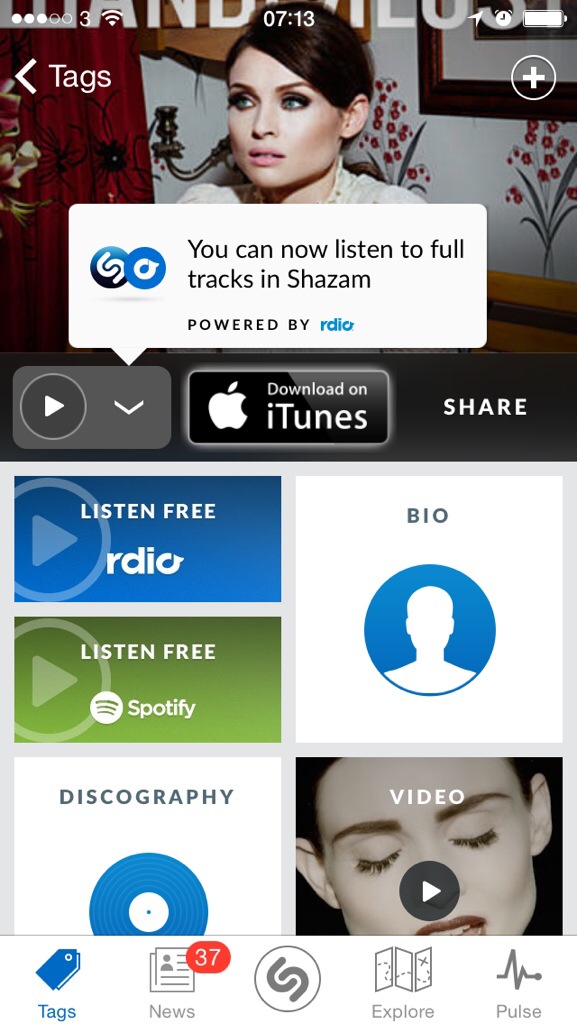 Seriously, you get something on your mind and then it is everywhere. I've been thinking a lot about streaming music lately and today Shazam updated to include some of that.
Shazam is the app by which you can hold your iPhone up toward a speaker playing music and it will tell you what that music is. You can probably find this app in the music section but I think it's properly filed and catalogued under Alchemy.
What's new today is that once you've heard some music and Shazam has told you what it is, it can now play you the whole thing via the Rdio streaming service. That is the specifically new thing in this latest update and it does require you to have an Rdio account.
But to try it out for you and also because I'd been meaning to try Rdio for myself anyway, I got such an account and then I checked Shazam.
It's true. I went through all the previous songs I'd had Shazam identify in the bars and clubs of my exotic lifestyle and there was an Rdio button. But there was also a Spotify one. That'll be because I have a free Spotify account.
So on the one hand, I caught the news about Rdio yet had missed the one about Spotify whenever that was added. And on the other hand, I went off trying Rdio all day. It has one advantage over Spotify: it lets you use all the premium features for 14 days so I was able to get it to play me entire albums in sequence. That's as compared to Spotify's free version only allowing shuffled songs and to iTunes Radio's way of not necessarily playing you the album at all.