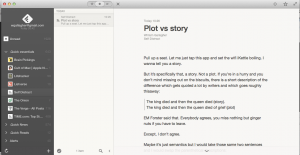 The short news for Reeder fans: download it right now from here.
The slightly longer news for anyone who isn't a Reeder fan: it is terrific and you should download it right now from here.
Reeder is a news reading app, an RSS one where you tell it what websites you like and forever afterwards it gets news from all of those sites. Depending on the site, you can read the headline, the standfirst, an extract or the whole article and whichever you get, it looks gorgeous. One tap in the morning and I am reading news from BBC, New York Times, Lifehacker, The Onion and myriad more.
There are many RSS readers like Reeder but I don't think there is another one that is really anything like Reeder. I've long loved its design – most of it, at least – and how well done its text was. Routinely, if I found an article on a site that was just too ugly to read, I'd either bung that piece into Pocket to read later or I'd subscribe to it in Reeder and read it there.
I still remember the instant when I learnt that Reeder for iOS was out. Last September, a new version was released partly to deal with how Google shut down its service that powered all RSS readers. It was a paid update and I paid instantaneously. That's how much I liked the old one and now it's how much I like the new.
Yet as good as Reeder is for RSS, I missed having it on my Mac too. That Google shutdown made the Mac one literally unusable and that is almost a year ago. Here's how good Reeder is: I haven't replaced it. Not on my Mac. I've tried others on iOS but as much as I used to use RSS on my Mac, I simply stopped reading any RSS there.
Until tonight.
What's been released is a beta version of Reeder 2 for Mac and the final version will be a paid-for app. I don't know the price yet and I don't truly care: I have read many thousands of articles through the various versions of Reeder and I open it practically as often as I do my email.
So go download it now from here and be ready to pay whatever the maker demands when it's out of beta.