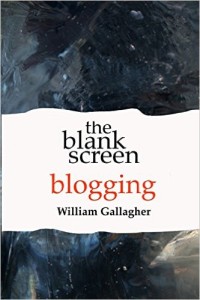 Right, I'm rubbing my hands here. After a year in the making, I get to bring you The Blank Screen: Blogging. This is the brand new book about how we writers can make blogs that work for us because they work for our readers. It's about how to write a blog that you'll enjoy and that means a blog your readers will relish.
I've a few opinions about all of this but I've also road-tested the entire book around the UK in workshops predominantly with writers but also journalists, musicians and actors. The common link is that we all need and want to reach audiences and we all have the skills to do it. You are far, far and three times far better able to write a blog than most of the people out there with pages about kittens.
It is a real pleasure for me to not only share what I've learned in thousands of blog posts but more to bring you the words of my favourite bloggers. The people who've inspired me, the people whose ideas I've completely stolen, they're all in this book. Join them with your own blog.
Go buy The Blank Screen: Blogging and let's get started.
William