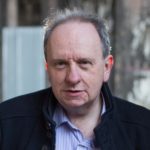 Good, there you are. Hello. I'm William Gallagher, a writer who, well, writes and talks about writing. And talks about how to find time to do both.
If you've come looking for my books or perhaps Doctor Who audio dramas – I'm not going to say those are my favourite pieces of work but only because all the other publishers and editors might hear – then nip over to my page on Amazon. That's got what you want.
Including the most recent book, Scrivener vs Ulysses – Choosing and Using the Best Writing App. That word 'using' is key. I write a lot of books and articles about technology from the perspective of using the damn things, not ever from which device has more pixels in it.
I also write fiction and there I'd point you directly to What Haunts the Heart, an anthology that contains one of pieces alongside some rather superb ones by writers I'm proud to be listed with.
Since about November 2012 when records began, I've also done well over 400 public speaking events of one kind or another plus I'm West Midlands regional representative for the Writers' Guild of Great Britain, I'm on the Midlands committee of the Royal Television Society and every month I get to run a Spark Young Writers' workshop for Writing West Midlands.
How are you?