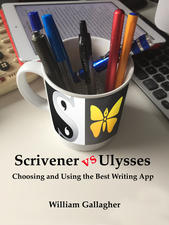 New book: Scrivener vs Ulysses – Choosing and Using the Best Writing App. That word 'using' is key.
The brilliant writing app Scrivener is finally on iPads but the great Ulysses got there first. Each is a boon for writers and publishers, each lets you bring all your writing with you everywhere you go. Then each help your research, each encourages your writing and each has an excellent Mac version. No wonder you can't pick between them.
But this buyer's and user's guide answers the question by showing you just what they each do and what they each do not do. It shows you step by step how things work and where one app will suit you – plus exactly when neither Scrivener nor Ulysses is quite what you need.
Now out on Kindle and Apple iBooks. Paperback coming soon.
As featured on Mac Power Users September 2016
"You must read this. First few sample pages gripped my attention." – Antonio López, Twitter 5 September 2016