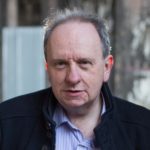 Good, there you are. Hello. I'm William Gallagher, a writer who, well, writes and talks about writing. And talks about how to find time to do both.
I'm also Deputy Chair of the Writers' Guild of Great Britain. If you'd like to know more about all the Guild does for writers, you could check out their official site. If you want to hear about how proud I am to work with them, just email me and stand back.
If you've come looking because of something I've written, it may be my Self Distract blog about writing and drama. Or perhaps you've come looking for my books and Doctor Who radio dramas. There's a handy Author Page on Amazon UK that collates all of those. And there's a similar author list page on Amazon USA. I like them both equally.
Or since about November 2012 when records began, I've done something in excess of 500 public speaking events of one kind or another. If that's where you know me from, I'm not sure what more I can tell you but hello, it's nice to see you again. How have you been?
Actually, it's rather great to see you here wherever you've come from or whatever peculiar search term you put into Google. Do please have a poke about the site and get in touch, too. I'm a writer, I spend an awful lot of time at this keyboard, you'd be human contact.
Not to mention an excuse for biscuits.
William