From November 12, 2005 to October 12, 2008, I used to write an On This Day piece for Radio Times. It was officially about television history, it was really about the history of how Radio Times covered television history, and it was a little column that appeared on every day's listing's page.
Well, depending on where you lived, that it is. The true reason for the piece was to fill a hole. Different regions of the UK got different editions of Radio Times and some of them needed a quite large section showing regional television variations. If you lived in an area where you could pick up two or more ITV stations, for instance, then RT listed them.
If you didn't, your morning TV listings page had a hole in it.
Hello. I got to fill that space with about 90 words to do with something Radio Times had said about some television or radio show on that day. It obviously had to be true, but it also had to be interesting and preferably relevant somehow, plus naturally I had to write it so that you would hopefully enjoy reading it.
In the end, I wrote some 1,415 entries. I'd deliver them a week at a time –– except around Christmas where typically I'd have to write five weeks or 35 entries together to meet deadlines –– and every week I'd study the RT archive.
I can still picture certain weeks. Such as the time I was reading the RT archive in what was then the Central Library in Birmingham and there was a whole team of people doing the same thing as me. They weren't half organised, too. I can picture four of them with laptops, pounding through issue after issue and noting down even more detail than I was.
That was the first time I met the Kaleidoscope group, an astonishing organisation that maintains a TV Brain database and finds lost television. If you've heard of a long-lost show being recovered, the odds are high that Kaleidoscope did it and through-the-roof high that Kaleidoscope was involved at some point.
And I also remember where I sat when I was, for once, working to a brief, and researching January 21. I've long told people that I had been supposed to write about The Glittering Prizes, a rightly famous BBC drama, and instead had gasped when I found that the children's show Kizzy started on the same day. I used to tell people that I'd looked around the library, as if afraid someone would stop me, and instead of Prizes, I wrote about Kizzy.
Apparently it's not true. I did sit there in the library, transported back to 1976 and seeing that show air, but I didn't write about it for January 21. According to my research database, I instead pegged it to the show's sixth and final episode on February 25, 1976. I wimped out.
I should say that the reason I stopped doing On This Day for Radio Times is that they had a redesign of the pages and no longer had a gap to fill. However, all these years later, they still know a good idea when they see one because RT's Mark Braxton regularly does the same thing –– but he does it on Twitter.
This is all on my mind now because I came across the fact that on this day in 1987, The Tracey Ullman Show debuted in America. You know Tracey Ullman, but still you're looking blank. This means that it was 32 years ago today that The Simpsons first appeared on TV. They were then a short insert into Ullman's show and they're now a mildly amusing sitcom. But in between those two, they were fantastic.
I hope I knew that before and that the only reason I didn't cover it in RT was that this debut was in America. I've checked and I did cover when BBC1 first started airing The Simpsons proper – it was November 23, 1996.
But then while poking around this old research and enjoying myself, I found something else.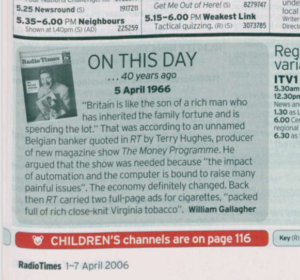 April 5, 1966. The Money Programme. As you can imagine, I made more notes than I ultimately used, so here's a fuller quote from that original issue of RT.
"Britain is like the son of a rich man who has inherited the family fortune and is spending the lot," said a Belgian banker who has extensive dealings in the City. With the recurrent tale of lost export orders, balance of payments trouble and pressure on the pound, people aboard now speak of "the English sickness" which has dogged us since the war, rather than any spectacular business achievements. They must wonder what happened to the British flair for business.

This year is bound to see dramatic developments. With a debt of £899 million round our necks to be repaid in four years, and a current balance of payments deficit, we cannot escape the pressure to improve our efficiency. Even without the pressure of our economic difficulties, the impact of automation, and the computer (felt increasingly in America) is bound to raise many painful issues for management, labour, and Government, in this country. We must prepare for a second industrial revolution."
That's 53 years ago and today everything is so different.