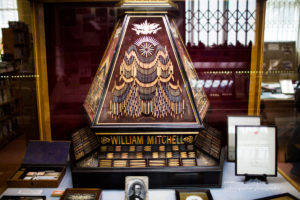 I am rarely the jealous type of writer. Back in 1996 I was fully green when I bought Radio Times and found they were starting a website that I thought I should be working on. A few months later, I was.
Apart from that, there's only been one case where I wished I'd done something. Well, no, okay, you could have any limb of mine you want if I could've written Arrival and actually I'd be out of limbs in seconds if I thought about writing I wish I'd written.
But apart from that. A couple of years ago, the writing partners Iain Grant and Heidi Goody became the official, legitimate and authorised writers-in-residence at – wait for this – a phone box.
Oh, I admired that. I still admire it. I don't plan on stopping admiring it. For it's one of those ideas that seems obvious once someone has thought of it but never before. Clever, funny, fresh, new and apparently next door to a pub. Even as I took my hat off to them, I was plotting to steal.
Well, steal in a writer's sense in that I did set out to become writer in residence of something equally appealingly daft.
I have not succeeded.
But from daft beginnings come serious endings.
For over the past couple of months I've been Blogger in Residence at The Pen Museum in Birmingham.
Now, I could've mentioned this before. Especially as I'm about to finish. And most especially because I adore the Pen Museum: when I got a chance to do this for a Museum, my first sentence was "Hello, can it be the Pen Museum, I'm William".
If you can possibly go, do. Right in the heart of Birmingham's Jewellery Quarter there is this glorious place. It's where World Calligraphy Day is based, it's where poetry events and rotating exhibitions visit. But on an ordinary, damp day with nothing going on, it'll still absorb you for a couple of hours.
It'll possibly leave you with ink-stained hands if you have a go with the calligraphy exhibits. It'll make you want a fountain pen after you've made a pen nib – under supervision, this stuff is really deliciously tricky to get right.
And I guarantee you this: you will tell people about how at the peak of pen manufacture around the late 1800s, 75% of all pens in use in the entire world were made in this small part of Birmingham. Later on, Walt Disney animation artists continually ordered pens from here so, yes, Bambi was probably sketched with a Birmingham pen.
I love all this stuff and I haven't even got to their typewriter collection. But I've not written about it here before because I've been working to figure out what in the hell I should do.
Because it sounded so clear. Fun but clear. Write them some blogs. Easy. You know me, I can barely shut up. And actually, yes, I've done that: if you visit the Pen Museum website over the next year or so you'll see blogs of mine popping up at appropriate moments.
But this was a case where the staff and volunteers of the Pen Museum didn't really need me for that. They're already writing and blogging and tweeting. They already have events – I'm an event producer and I recognised early on that there wasn't space in the schedule for me to contrive another one.
It turned out, though, that it was my producer head that was needed. Lots of people want to volunteer at the museum so you get a great turnover of staff and also a great variety of them. Appropriately, I didn't met a single one who couldn't write well, but of course you know that some are already blogging, others wouldn't go near Facebook if you begged them.
My own blogging writing became incidental – I think we just quietly agreed that I couldn't stop writing so we might as well use me – and what became important was producing a process.
We're still working on it but I think what we've started will make the Pen Museum website feel as much of a place to visit by itself as the actual museum always has been. So many people visit from around the world but you know many more would want to so over time that site's blog will grow.
There is just something right about a Pen Museum having a vibrant blog. There's this one quite small exhibit in there, for instance, which lines up writing tools from pen through typewriter to iPad. You can use all of it and get a sense of how the past forms the present and I think that's fitting for the blog too.
Being Blogger in Residence at the Pen Museum isn't as gorgeously daft as being a writer in a phone box but I adore that I got the chance to do it. Thank you to Writing West Midlands and the Ironbridge Gorge Museum Trust. Without them, I might have been reduced to being writer in residence of my mobile phone.