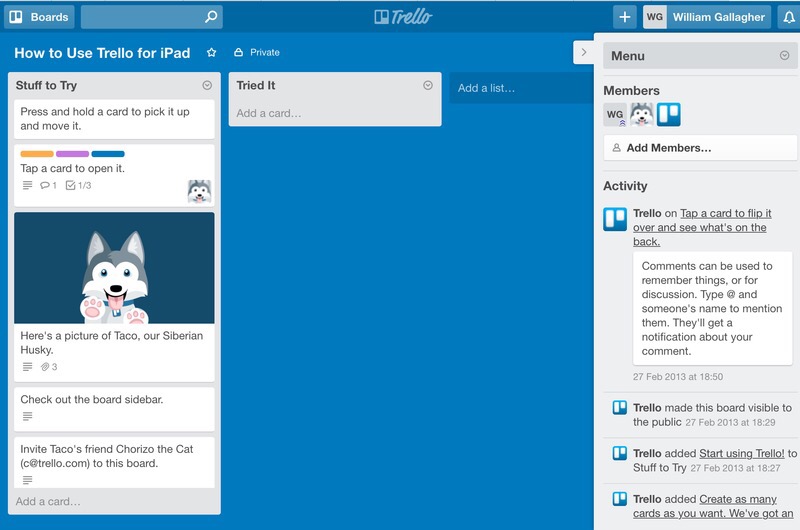 There's little getting away from the fact that a To Do list is a list. It's a lot of words, ranged in a column, and if there is anything visual about it, it's that together they look daunting. But there are things you can do and Trello is a free service that has a good stab at one of them.
Specifically this. You do end up with lists in Trello but each list is like a stack of little cards and you can drag them around. In an ideal, recommended, go-on-try-it Trello way, you might have one stack for all your tasks, then one very short stack for the thing you are doing now. You might also have a stack for the one thing you will do next. Also a stack for everything you've done.
When the time comes to railroad, you can look at your Next Thing To Do stack and slide the card over to the Look I'm Doing It Now stack. And then have a quick look through Everything On My Plate and drag out one card to be the Next Thing To Do.
The visual part is the dragging. It looks and feels like you're doing this on paper on your desk and that may suit you amazingly well. I learnt of Trello from a friend for whom it works amazingly well: she can see what she's got to do at all times.
Plus she works in a team and while they haven't all adopted it yet – she's the first one to try it out – they now have the option for the entire team to use the same free system and work together.
It sounds ideal and it could be for them, it might be for you, right now it seems it definitely is for the friend who told me about it.
It isn't for me, though.
That's for a lot of reasons and I think the first is down to how you spend that time picking the next thing to do. Time spent working on your list is time you could be spending on doing the tasks.
Next, the space you put these stacks of cards is called a board and not only can you have many boards, you are encouraged and expected to. Have one board for all the things that your colleagues are working on together but keep a separate, private board for all the secret trysts you get up. (I'm not judging.)
That's fine and my friend has many boards already, but for me it's back down to the business of having one system for everything: how do you know you're done when there are always other boards to check?
There is also the fact that Trello doesn't have the oomph of something like OmniFocus. Plus it's an online service. You use it via iOS apps on your iPhone or iPad, but it's really an online service and you can't use the apps when you don't have an internet connection.
That's bad. That's the only thing I'd say is definitely bad: everything else I don't like is personal preference, but the inability to use this when you're away from a wifi hotspot is bad.
My friend tethers her wifi-only iPad to her iPhone to get it to work or sometimes she just uses it on her iPhone. So it's not a dealbreaker for everyone and it does have this unusual visual aspect that is going to be worth a lot to many people.
So especially as it's free, do go give Trello a spin, would you?