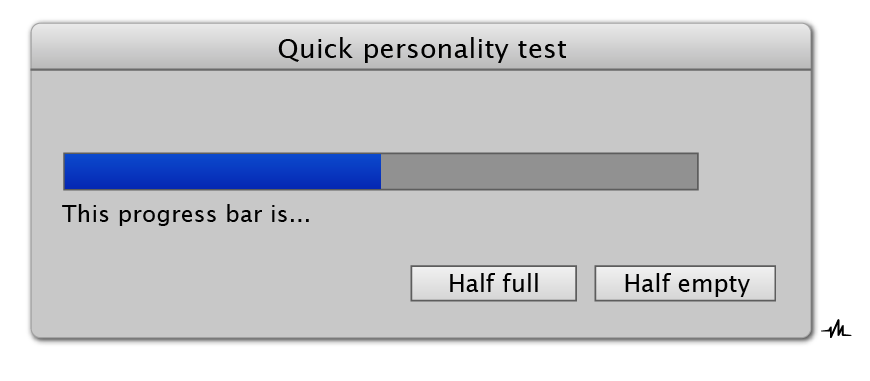 Artist Viktor Hertz has a lot of these and they're very good. See more on his official site.
I don't honestly know what OmniGraffle is for. Hang on:
OmniGraffle is for creating precise, beautiful graphics. Like website wireframes, an electrical system design, a family tree, or mapping out software classes. For artists, designers, casual data-mappers, and everyone in-between.
Thanks. For some reason I read that, I understand it, but I forget it. And the next time there's a new version of OmniGraffle, I get to wondering: what in the hell is OmniGraffle?
It's not for me, that's the other answer and it's the explanation. I don't need graphics like this, I don't create them, I can't create them. So in my productively-focused brain, it wouldn't get into my head and it wouldn't get a spot on The Blank Screen. But it's by the Omni Group.
I am wedded to this company's To Do software OmniFocus. If it ran on Windows and Android, I would skip a whole chunk of my workshops and just recommend OmniFocus to everybody. As it is, I recommend OmniFocus to everybody. Buy a Mac first, if necessary.
Then if I'm wedded to that, I'm having a fling with OmniOutliner. This is the outlining software that changed my mind about outlining. I used to do it solely when contractually obligated. Now I am still an explorer on the page but if I have to do anything quickly, I whack down some thoughts in OmniOutliner and let them grow until they find their own form. I've done books like this. Interviews. Events. I've done things where having juggled the outline around until I'm happy, I've then sent that outline directly into OmniFocus where it's become a whole series of tasks.
I am now planning a lot more events and I'm toying with OmniPlan chiefly because it's made by the same firm. So when the Omni Group announces a new version of OmniGraffle, I notice and am compelled to tell you about it. I'm just rubbish at actually telling you anything about it. So do go read the full piece on the Omni blog.
Well, there are limits. I want you to see an illustrated plan of my typical or pattern week because I want you to see if it'd be any use to you too. Plus, I hope that showing it you here means I'll stick to it and find out whether it's really any use to me.
Previously on Pattern Weeks… really the only thing to check out if you want to know more about this is the first post I wrote back on 31 December. Now read on.
Or rather, look on. Here's the final thing: a pattern for my week that I've made my desktop wallpaper on my iMac and, here, my MacBook. The MacBook and its screen are artistically blurred; the tea mug in the foreground is mistakenly blurred.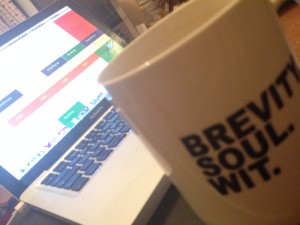 And below it is the actual pattern, albeit without any incriminating text.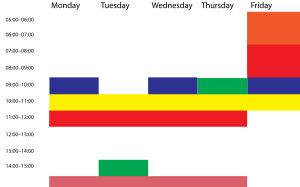 I won't get any points for artistry. And without the incriminating text, I think there is only a little you can take away from the idea. But it's a good little. And it's this: I have put these many tentpoles into the week where at certain times I will do these certain things. That means on the one hand that I'm trying to guarantee that these get done but also on the other that there's all that whitespace. That's when the real work of the week will be done. If I planned it out too much, I'd be so often breaking the plan that I'd come to ignore it.
I think what I'm trying to create here is analogous to an ordinary office job's schedule. Whatever you do, you have certain times in which to do it and there are points when you have to attend meetings or deliver reports. And as I say in The Blank Screen (US edition, UK edition) I believe that when you have a commitment like those, it takes away a lot of the churning stress. It adds other issues, but for that hour or whatever, you know you are doing what you have to do and you therefore don't spend a lot of energy questioning it. You just get on with the gig.
The one other thing to say is that I've got to underline the word pattern. This is what my week should look like, it is the pattern for the future. And I know it won't be like this. For one thing, I've planned out here 05:00-15:00 which I'm finding is a good amount of time to work both in when I'm at my best and in how much I can get done. But this coming Thursday, for instance, I'm definitely working until 21:00 so I might start either that day or Friday a bit later than usual.
But we're halfway through January already and while I'm getting a lot done, I need to do more and the visual reminder right here on my screen, constantly, permanently, I am hoping that it will help. That it will keep me on track through the week and that it will also appeal to the visual side of me as I go.
We'll see. But this is something new and just sometimes I suspect I need a new toy to help me work.