That's how it seemed to me, anyway. Once I left BBC Ceefax and when my Radio Times work became more news and less reviews, I felt that television drama and comedy took a lurch upwards.
Just saying this to you now makes me think of the Heisenberg Uncertainty Principle where if you measure something's location, you affect its speed and vice versa.
But really all that happened, all that changed was that I no longer had to watch to the end of rubbish shows. So now I was only seeing series that I enjoyed.
Still, there is a thing about being required to watch TV and specifically to be required to watch to the end. Usually it's a good thing, too, although again as my fingers type this to you my head has just flashed back to Harbour Lights. That was a 1999/2000 BBC drama by many good writers but you didn't watch it. You can now: it's on YouTube.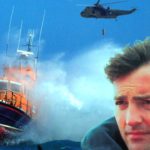 I watched it back before YouTube was imaginable. I remember this night so particularly clearly because I was trying to get ahead one week and this was the big launch, this was the big new show, clearly it was going to be the one reviewed and I had the tape right there. What I don't remember is exactly what happened next but some other show get that night's review slot and you are now reading the first words I've ever written about Harbour Lights.
But then there are the shows I probably wouldn't have watched, might not have got around to watching, or wouldn't have caught until years later.
I'm thinking of three of them.
Some time around 2003, I think it was, two DVDs with the Battlestar Galactica mini series came in to the Radio Times office. This is a TV show but it was funded by Sky and that broadcaster decided to put it out first on its movie channels. So RT wasn't going to review it as television and the film team had already written a dismissive 50-word description broadly saying how rubbish television is compared to movies.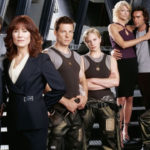 Then for some other reason I never knew, Sky delayed airing the movie. So those disks lay there on a desk for a week or more until one night when I was coming home to Birmingham by coach and had nothing to watch. You're thinking I took those disks and loved them, but you'd be wrong.
I took one of the disks and was furious at myself because it was going to be a week before I could get the second.
Then let me take you back again to VHS tapes. I used to get piles of VHS tapes from the broadcasters and I particularly enjoyed going to collect them from the BBC Previews Department. Great people, I liked them tremendously, and on the supremely circuitous route you had to walk from Ceefax to their office, you went through the scenery bay where they kept the TARDIS.
This was long before Doctor Who came back and the new show built its own police box so this old one was just left there from affection. Plus you could store so much inside it.
I definitely got the Harbour Lights tape from them and just looking up air dates now, I think it's possible that in the same week Channel 4 sent me Queer as Folk.
I don't remember if I watched them on the same night. I do remember staying over in London in some B&B that had a TV set and a video. I remember being dog-tired. I remember being rather hungry. And I can see something like six VHS tapes in a pile that felt like the most enormous slog to get through.
Until I popped Queer as Folk in.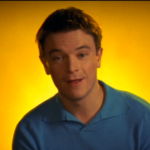 There's a story that the first scene of Queer as Folk was coming across as a bit serious, that its tone was setting up the show to not feel the way it should. So an extra scene was written, shot and inserted at the start of the episode. It's Craig Kelly as Vince talking to camera about one night out on Manchester's gay scene and concludes with a description of a man who "has every episode of Juliet Bravo on tape".
It's fast and funny and booms you into the series – and I didn't need a word of it because I was already grabbed. I tell you, I can vividly recall sitting up as the title sequence started. I just watched it again now and there is a verve, a call to action, a delighted energy in the music and that was it. A dog-tired, hungry slog of an evening was now great.
The music was by Murray Gold, the series was written by Russell T Davies, produced by Nicola Schindler and the first episode directed by Charles McDougall.
Can I tell you one more? Because it's the reason I'm remembering all of these shows this week. For twenty years ago on 6 June 1998, Sex and the City began.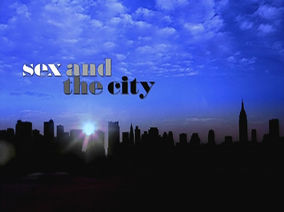 That's the original US air date and apparently Channel 4 first aired it here in 1999. I know it's not from the same night's reviewing as Harbour Lights and Queer as Folk because I can remember the different hotel room.
And I can remember having only it to watch. If I hadn't, if I'd got other shows to get through, I'd have got through them. Because I didn't think episode 1 of Sex and the City was good at all.
Whereas episode 2, Models and Mortals, was great. Both the first two were written by series creator Darren Star but I thought then that pilot was heavy handed and this next one flew. There's got to be an issue of how I knew the characters going in to episode 2 but still, pilots are hugely difficult and I don't think this one worked.
So there's a lesson for us both. Watch every episode of everything because it might turn out to be brilliant. There you go.