I've been thinking about this all evening and especially since Apple announced its pick for the best apps of the year for iPad and iPhone. Apple went for Pixelmator on the iPad, which I like very much and regularly use in the production of this very site, and Elevate or Replay Video Editor (depending on whether you're in the USA or UK) for the iPhone. And I'd not heard of that.
I think my pick beats all of them. And so does my second-place pick. Okay, I couldn't get it down to just naming one app, I have to tell you about two, but they are both gorgeous things of beauty that are transformative in my work. The first-place winner, for me, in a mo, but now, an extremely close second place spot goes to… Drafts 4 for iPhone and iPad. Easy. It's an apparently simple note app where you just fire it up with a tap, write anything you fancy and forget it – or send it off as email. Or a text. Or an OmniFocus task. Or an Evernote note. Or all of the above. And more.
The speed of opening and getting going with your writing is a big deal. It makes Drafts 4 far faster at entering Evernote notes than Evernote itself is. Far. I've reached for Drafts 4 in the middle of the night when I've had a dreamy idea and I've come back to it the next day to send on to email, Evernote – or the trash. Depending.
Drafts 4 also transformed how The Blank Screen site is written. When I'm just pointing you at an interesting article someone else has written, I can go to that, highlight a choice quote and tap a button. Drafts 4 takes in that quote, turns it into an inset block quote, appends the citation including correct link back to the main article and writes me a basic paragraph referring people to that original. One tap instead of back-and-forth to the site several times. I love it for that alone.
But please imagine you've just written a bit of an old note. Written it and then tapped one button. This is what you see on iPhone: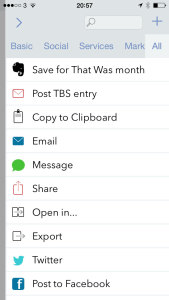 There are ten options right there for what to do with your text and I only created two of them. But I could create two, it is possible to create your own. So the top one appends a note to a journal I keep in Evernote and the second one posts the Drafts text straight to this website. Write, tap, publish, gone.
It's so good I could've made this my favourite app of the year and probably should have done because it came out in this version in 2014 whereas my real best-app-ever pick is one whose iPhone version was last released late 2013. Still, it's best-app-ever and its iPad one was September this year. Come on. That's up next.