Spot the difference: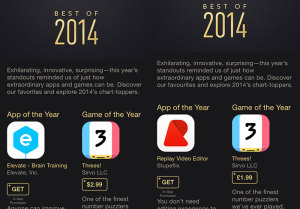 On the left, Apple's iPhone App of the Year – Elevate. On the right, Apple's iPhone App of the Year – Replay Video Editor. The difference is that I took the screen grab on the left on my iPhone while logged in to my USA iTunes account and the other while back on my UK one.
Interestingly, both Elevate and Refresh are available in the two stores. I just don't know anything about them because I'd not even heard of either until twenty minutes ago. This is another thing that makes me wonder if they are really the best app(s) but then that is being a bit parochial of me. Maybe I'm just looking for my favourite apps of the year and these aren't them.
If you fancy the brain training utility Elevate – seriously, I don't know anything about how it elevates your brain, you're on your own there – or Replay then you've just read over the links.