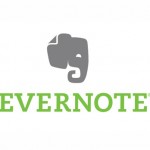 I've been using Evernote for years and much of my life is in it. Yesterday I opened a second account.
Follow. Every Evernote account comes with a secret email, much the way that OmniFocus does. He or She Who Shalt Know Thy Address can just email things straight into your notebook. See something online, zap it off to your Evernote account. There cannot be any app that doesn't come with the ability to share things via email, you're just taking advantage of that to send to Evernote.
But you only get one email address. And while you can do clever dances with the email's subject heading, it's a bit tedious. Only a bit. If I get an email from you about The Blank Screen and I can't reply immediately for some reason, I can and will forward the email into my Evernote account. I could and rarely do add details to the subject heading so that Evernote files the email away somewhere for me.
But you only get one email address. Unless you open a second Evernote account. Then you've got one for that too.
I have long had a Premium Evernote account and yesterday I opened a new free one. Ever since I did this, if I see something online I want to – for instance – write about here, I tap Share, tap Email and I start writing the letters "Ev". Before I've got any further than that, Mail is autocompleting my Evernote address and I am sending the material on. Barely a thought.
You can see the advantage. And you can't see the advantage of forwarding emails to another Evernote account, not unless you think I'm trying to avoid people. Except, you can share notebooks.
So yes.
That's exactly it.
I have a free Evernote account which contains one notebook and of which that only notes for The Blank Screen. And I share that notebook – with myself. With my main account.
Previously, OmniFocus was getting clogged up with links I wanted to explore. Now everything goes into Evernote and I see it, I never miss it, but it is never in my way.