I still can't really tell you her name. Thank you for the thoughts and comments about last week where I told you of a friend who's died. I was touched, I kept pressing my hand to my chest as I read. And now we've just got to get through her funeral.
In the meantime, since you've been so nice, I'm going to regret what happens next. I'm going to tell you something insufferable. I have to tell you now while it's still true and I promise that I'm going to be as annoyed at me as you are, but maybe that'll spur me on.
It's not the same thing but I am reminded of a tweet recently where Inc. magazine claimed that "the world's most successful people start their day at 4am" – and JK Rowling replied with simply "Oh, piss off".
Previously… I have belaboured here how I read 600-odd scripts last year. (For the record, it was 624 by New Year's Eve.) I said that I didn't know what to do this year, but presumably after all that reading, it should be writing.
This is what I decided. I would write scripts for half an hour every day in 2019, regardless of what else I was doing. Even if the day's job was actually scriptwriting, I would do half an hour of a different script Every Single Day.
And this is the insufferable part that could fail at any moment. I have done. I know it's only 25 January as I write to you, but I've done it 24 times so far. Once I think it was the first thing I did in a morning, before I started on various commissions. Once for certain it was 1am the next morning, after I'd finished a thing.
This did mean I finished my script for Bad Choices, an evening of plays at The Door in the Birmingham Rep next month by Cucumber Writers, and I'm going to be directing that night too. So that was useful, that was necessary, and because it had a deadline, it was also obvious that I would have to do it and this made the half-hour-a-day easier than it might've been.
Other than that, I dramatised one of my own short stories for no reason at all. Except that having turned a 2,000-word story into a 15-minute script, I discovered two new characters. Well, at least one of them is mentioned in the story but he's now actually talking in the script along with another new one. I like them both so much that I may go back to add them to the prose story.
And you know how when you're thinking of something, you see it everywhere. I've been thinking about scriptwriting and there was a discussion on Facebook about the best books on the subject. I'm not convinced there are any, really, as ones that tell you how to write tend to actually be telling you how that author writes. Since you've never heard of the author, they don't appear to have written very well or at least not very successfully.
Yet there are books that I definitely like which are somehow on the periphery. They're not how-to books but they are ones that help.
Such as the one I surprised myself by throwing in to that Facebook discussion. I recommended the Star Trek: Deep Space Nine Companion by Terry J. Erdmann and Paula M. Block.
It is one of the very, very many books about the making of one of the very, very many Star Trek series. But it has a couple of thousand words about every single episode of the seven-year show and about eighty percent of that is about the writing. Most of it is very informative about the thinking behind a television series: the writers go into detail, for instance, about why a certain character was created and what the aim was.
Then there are many times when the writers are proud of their show and they tell you so – but at least as often, there are points when they are brutal. Yes, this character was brought in to do this but it didn't work because we didn't do this or we did do that. "What were we thinking?" they say of one episode.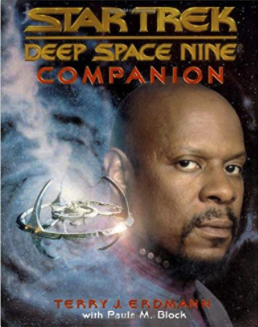 It's a fascinating read. It's not an easy read because there is just so much and it's a very hefty book to be carrying around to read between meetings. But it is very good.
Except for one thing.
Star Trek: Deep Space Nine is on Netflix so you could read about any episode and then go watch it. Except it's a lot faster to read the scripts.
Yes. I skipped the first season because I remember the writing getting better from the second. But in this year of no longer reading a script per day, I have accidentally now read 81 of them.
Told you. Insufferable. Although I'll say it now as I did last year, there are days when hiding away from the world in a good script or ten is very appealing.