Okay, I think this is pretty rare. Not only can I tell you to the year when I decided I wanted to be a writer, but I can tell you to the minute when I got obsessed with the thing that has affected all of my writing ever since. And there's an irony to that because what I'm obsessed with is time.
The year would've been 1978 when ITV started airing Lou Grant. That was this groundbreaking drama about newspapers and I suppose it is responsible for my becoming a journalist but I know it's the reason I'm a writer. To this day I am still striving to write as well as that show. To do what it did and as well as it did it.
But in its five-year run, I can only think of maybe a single episode that had anything even distantly to do with time and that's been my obsession since even before that show. I'm working on a collection of short stories on the theme of time right now and part of me thinks it's the best thing I've ever written while another part of me hopes this means I'll finally be done with it.
For time is just riddled through everything I write. I mean, yes, Doctor Who radio dramas, it'd be odd if those didn't touch on the subject.
But I can see it in plays I write. I got fired off the TV soap Crossroads once, have I mentioned that? In retrospect I can see that one of my gags in the show was about time. (That wasn't why I was fired. I was ditched because I was rubbish.) One of my rather more successful pieces of writing and actually one of my favourite short stories of mine is Time Gentlemen Please and each time I've performed it, someone in the audience has been convinced I'm as ill as the character. Perhaps I am.
Even regular conversations turn to this damn topic. Last Saturday I had a workshop that we all paused while we talked about the Grandfather Paradox. (You might not know the name but you definitely know the idea: it's the thing that says you can't go back in time and kill your grandfather because then you wouldn't be born and so wouldn't go back in time to kill him.)
Two days before that I was at an art and poetry event. After the main readings, the artist Sue Challis showed me a painting of hers and poet Nadia Kingsley stood by it giving me personal performance of a poem inspired by that painting. They made me cry. Because to my mind, both poem and painting are about time.
And this is on my mind now, other than because it always is, because I just today learned that this year is the 60th anniversary of Phillipa Pearce's book, Tom's Midnight Garden.
That book about time is as dear to me as an old friend. But it's the BBC dramatisation that ignited a lifelong friendship and this lifelong compulsion.
At 17:15 on Monday 7 January, 1974, BBC1 aired a dramatisation by John Tully and produced by Dorothea Brooking. (Quick story? A friend mentioned in an email that she had some of Brooking's archive and I wrote back instantaneously saying just DOROTHEA BROOKING? We were working on a project together and stuff that, I wanted to see Brooking's archive.)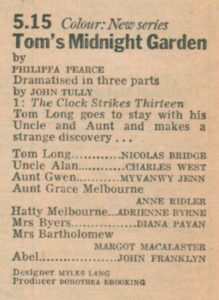 You can watch a lot of this version of Tom's Midnight Garden on YouTube, though unfortunately not all of it. There's no commercial release. And if Tom's Midnight Garden were ever to come out on shiny disc or streaming on demand, my 1974 version wouldn't be it. Because there was a better one in 1989. And my one was a remake of a 1968 one. I've never been able to see that and I don't even know if it still exists, but if you wanted quality you'd release 1989 and if you wanted history, you'd release 1968.
I'm not even going to disagree with that: I think the 1974 version is perfunctory, it's squeezed down into too few episodes and it is particularly cheaply done.
But it's mine.
I don't know that every writer has one strong obsession or actually that they necessarily recognise it in themselves if they do. But surely it's got to be rare for one to be able to pinpoint to the very minute when it started.
I'm only relieved it didn't also get me into gardening.