Possibly you know this: there is a thing going around called the Blogging Tour wherein one writer answers certain questions and then tags three other writers to do the same. I think the official logic – and I wish I knew who had started this so I could ask – is that this brings new readers to our blogs. I'll answer the questions below and I do want to say hello, we have biscuits and tea here, pull up a chair. But I really want to exploit this gorgeous excuse to find out what my three tagged writers are up to and, in case you've not found them before, urge you to go find them now.
Each of the three will be posting their Blogging Tour entries next Monday, 10 March, but that's no reason to wait. Go have a look at them all now. And in alphabetical order by first name, they are and they describe themselves as: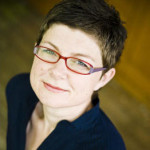 Anna Lawrence Pietroni
Anna Lawrence Pietroni started writing her first novel when she was training to be a prison governor. She now lectures in Creative Writing at Birmingham City University and is currently writer in residence at the University of Gloucestershire. Ruby's Spoon was published by Chatto & Windus in 2010. Her blog is on Five by 3 here.
Jason Arnopp is a British author and scriptwriter.  He wrote the 2011 Lionsgate US feature film Stormhouse, and BBC audiobooks Doctor Who: The Gemini Contagion and The Sarah Jane Adventures: Deadly Download.  More recently, he has written the terrifying Kindle books Beast In The Basement and A Sincere Warning About The Entity In Your Home.  He lives in Brighton with far too many movies on VHS. You can find him at INT. JASON ARNOPP'S MIND – DAY/NIGHT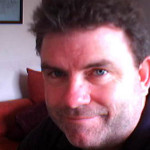 Ken Armstrong
Ken Armstrong's first produced play was called 'Hamlet in Ireland. He was fourteen at the time. It was enviably useless. Since then, he was had about eight produced theatre plays and about another eight produced radio plays. He has also written numerous (more than eight) short stories, done bits on radio and film here-and-there, and won some prizes, though mostly he tends to come second in things. He blogs weekly at kenwriting.com
And there's one more. I said you had to be asked to do this by a blogging writer and that lot above is who I immediately ran to. But I was asked in my turn and that was by author and poet Jeff Phelps. He describes himself thisaway: Jeff Phelps was second prize winner of the Stand open poetry competition in 2000.  His novels, Painter Man and Box of Tricks, are published by the award winning Tindal Street Press. And you can read more in his own response to The Blogging Tour on his blog.
Seriously? You're still here? Unless you are ferociously organised and disciplined, you haven't yet clicked through to read any of these fine folk's words. Off you trot.
I'll just talk to myself for a bit. It's easier, anyway. My answers to the Blogging Tour questions are going to be a mix of bluffing and lies as I pretend I know the answer and I'd rather you didn't see that.
You're going to make me do some work here, aren't you?
The questions and the kind-of answers:
1) What am I working on?
The moment you and I are done here, I'm back to doing some copywriting for a Birmingham PR firm. I so enjoy this: copywriting uses all the skills for conciseness and getting huge amounts of information into short spaces that I learnt from BBC Ceefax and it uses everything I've got from Doctor Who to make it fun.
That work's come up suddenly and I've had to push other bits aside to get it done so officially I am also in the midst of a complicated theatre project. Or at least, if I can get it going, it will be complicated. And to make up for how I can't say a word about it now, you know for certain that I will say many, many, many words about it later.
I'm also editing Catherine Schell's autobiography while exploring whether it's time for a second edition of my The Blank Screen: Productivity for Creative Writers book (UK edition, US edition). The reason for pondering this is that I've now done many workshops on the same topic and I've learnt a lot of little extras. They're all tending to go on The Blank Screen website which has just crossed its 200th post since I began it back in December. I've a new Doctor Who coming out very shortly – Doctor Who: Scavenger – and love doing those so much that I'm thinking pretty constantly of further stories to pitch. So far this year it's been all pitching: there are several BBC Radio 4 projects on the go which I'll know about in the next few months.
Then I'm working with that Jeff Phelps fella on a poetry project and we're also both on Writing West Midlands' Room 204 scheme for a few more weeks. That's a year-long scheme for writers in the region and it's been ignition for me. Hard to quantify it but everything I was working on this time last year is now greatly further ahead and I've added entire new jobs like The Blank Screen workshop and doing a lot in schools and universities.
There's a complicated thing going on with a novel of mine but while that's with Paul the Agent Guy, I'm looking at another one. You look back and it's surprising how many novels you've ended up writing in between everything else but I rather like being in the middle of one and this particular idea is exciting me. They all do.
Um. The certainty that I've forgotten things. If I haven't mentioned a thing that you and I are working on, it's entirely because it's still secret. Not that I've forgotten.
To be truthful, I'm a bit lost at the moment in the mass of things going on. Creatively, it's very thrilling, but my head hurts. I turned to mind mapping before a particular meeting last week and it worked so well that I've since been steadily working up a map of everything I'm doing.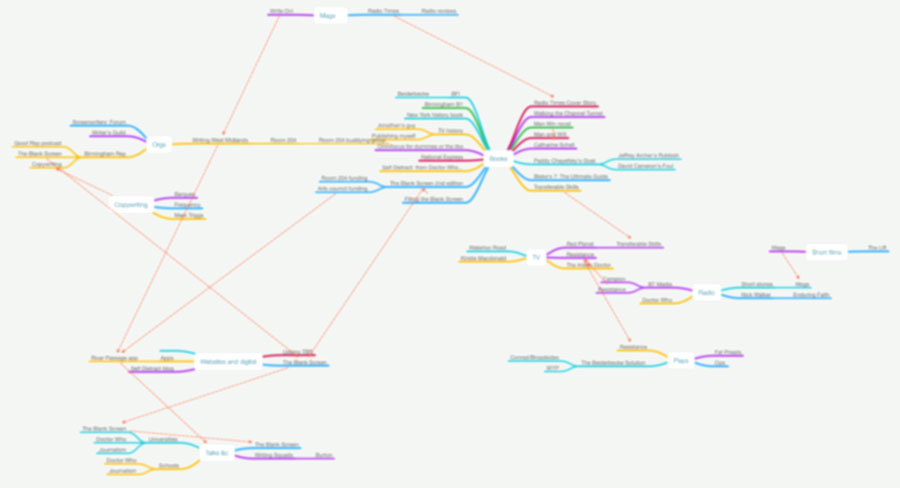 2) How does my work differ from others of its genre?
I'd like to cop out of this one as I don't think my work sits in any one genre. Certainly everything I write turns into a thriller or a romcom, occasionally and unsuccessfully both, but I'm all over the shop with fiction and non-fiction. Which I like very much.
That was easy.
3) Why do I write what I do?
Bugger. Harder. The Hallmark-Card-sized answer is that I write to find out. With non-fiction that is specific and easily described: I want to find out things and rush them back to you like a puppy with a stick. In drama, it's harder. I'm trying to find out more about us.
Sorry: that's all I've got. I'm going to be thinking about this a great deal. Mind if I pop back some times and say more?
And lastly:
4) How does my writing process work?
Phew. I can do this one. I write from 5am weekdays and I'm trying to spend the first hour on a drama or fiction project that is not connected to the current workload. So if I'm supposed to be spending the day doing Radio 4 proposals then I will but first I'll do an hour on something completely different. Only check emails at the top of the hour. I've scheduled out times when I make pitching calls, times when I work over my OmniFocus To Do list. Otherwise, it's writing.
Or it used to be. And it still is a lot with non-fiction. With drama, I try to work like that and it often goes okay but sometimes I have to get the hell out of Dodge. Have to step away from the desk. Have to leave the office. And other times I really need to shuddup and sit here writing.
Well.
You see why I said you should go read the other folks?
Thanks to Jeff for asking me to do this, for putting me through it but also getting me chance to point you at fine people.