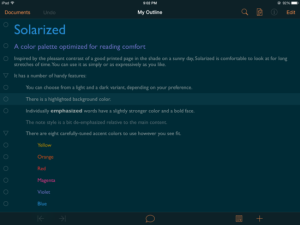 It's a small update compared to the OmniFocus and OmniGraffle ones announced today but also I use OmniOutliner so I'm going to be getting this when it drops too.
Wait. Makes a mental note:
1) Get iOS 8
2) Get OmniFocus 2 for iPad
3) Update OmniOutliner for iPad
4) Update TextExpander for iPhone and iPad
5) Install TextExpander keyboard for iPhone and iPad
6) Update 1Password
I'd best get on with some work before iOS 8 drops then, hadn't I?
For once there are no more real details about the OmniOutliner for iPad update: I found out via a tweet that just said it "will fix compatibility issues with iOS 8 and restore 'Dark Mode'". (Ken Case, @kcase, 17 September 2014). But you can read much more about OmniOutliner on my review covering the iPad and Mac versions or you could horse's mouth it on the official site. With videos.