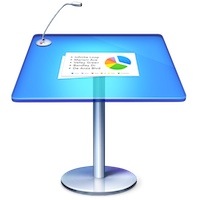 I knew you could do this or I wouldn't have even tried, but this afternoon I wrote and presented a talk using my favourite presentation software, Keynote, and I did it on a PC. Keynote is on Macs and iOS only, but if you go to icloud.com on any computer, you can use it as if it ran on your machine.
Same with Pages the word processor and Numbers, the spreadsheet. They're all on icloud.com, along with Apple Mail, Calendar, Contacts.
But it's one thing knowing this, it's another doing it. And this ability is just crazy good. If it weren't that the keyboard was clunky plastic, I could've been on a Mac. Now, I'm a Mac user so naturally I prefer this to PCs but it was the flawless ability to do what I would've expected to do, what I am used to doing, that made this wild.
Keynote is just a very good presentation application, pretty much infinitely better than PowerPoint. I had the choice of using PowerPoint locally, as in actually on that PC's hard drive yet I chose to run Keynote over iCloud. This was in all ways stupid: what if the internet connection had failed?
But it was also in all ways sensible. I was twice moved to different lecture rooms and because I was doing this on icloud.com, I just logged back on to there in each room and carried on exactly where I was.
And though the college I was at had PowerPoint, the first time I ran it, it came up with lots of messages that – read at great speed and in a rush to click my way through – gave me the impression that this was a trial version of PowerPoint. Not the full one. So it would have all the features but it would gripe at you a lot.
I've seen Microsoft Griping. I saw a fella us a PC that give a presentation so gorgeous that I was willing change my mind about Macs vs PCs – until he turned to face the audience. The instant his back was to the screen, there was a Windows Genuine Advantage error message. Basically, the internet connection had gone down and even though he wasn't using the internet, Windows chose that moment to check something online and because it failed, said so in big letters.
Very amusingly, the connection must've come back because just as he turned around to change the slide, the error vanished.
I don't care whether you like or dislike Apple, you know they wouldn't interrupt your presentation with a system error.
So my choice was between a trial version of PowerPoint that would gripe and anyway was PowerPoint, or Keynote which was online at icloud.com and so at risk of losing the internet connection.
I chose Keynote.
And I tell you, I always will. Right now I tend to produce my presentations on Keynote for Mac or iOS and at the very end convert them to PowerPoint. I then arrive wherever I'm going with a USB thumb drive containing one Keynote version and two PowerPoints (the old and the new formats). I also have the same files on Dropbox. And I often bring my MacBook with all versions on too.
I think I still will. But I'll also make sure I've got a copy on iCloud.com.
Keynote is a pleasure to use on Macs and iOS, I had thought it was a cleverness that you could run it on PCs via icloud.com but it's more than that. It's a pleasure to use it even there. And to be able to present directly from it, that's huge to me.
Try Keynote on iCloud.com yourself. If you have an iPad or an iPhone – it's not wonderful on an iPhone but it works – then get the iOS app here. And if you're on a Mac, it's waiting for you at the end of this link.