Hemingway was an online-only app for word processing which would let you type away and then wince at you. Give a sharp intake of breath at you. And mark up your text thisaway: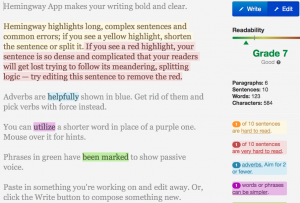 Red highlighting means ouch.
I have never used it and wouldn't rush to write anything online, said William typing this directly into a WordPress page on Safari. Hmm. That changes my mind. I have actually just changed my own mind.
Still, I'm writing where I know I have a steady wifi connection. And this news story is currently only 92 words long. You could live with me losing these 92 words, I could live with it too. But a novel, say, that would be harder to shrug off after one lost wifi connection.
Now, however, Hemingway brings all its vicious accusations to the desktop: you can buy Hemingway for PC or Mac at $4.99 each from the official site.