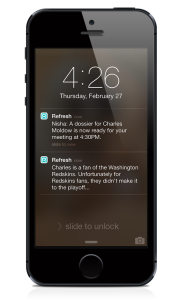 Previously…  about six weeks ago I told you of a new iPhone app that scanned your calendar and researched details on all the people you are due to meet. It's called Refresh and as yet it is still not available in the UK. My quick summary review was that Refresh is astonishing, if not a little creepy. It suggests conversation topics ("Say, haven't you just been to Cuba?") and that was far too far.
Now, read on.
I've not used Refresh since I finished the review but I also didn't delete it. Chiefly because I forgot all about it. But last weekend I it prompted me. I had a calendar event called just "Alan and Cathy" and Refresh prompted me with extensive details about Cathy. Without my asking or even realising, it was parsing the calendar and it recognised which Cathy even though the entry didn't include her surname. I have no idea why it didn't pick up on who Alan is. I also have no idea why it prompted me then when I must've had a dozen meetings in the past six weeks.
Nonetheless, it was fascinating: it had culled details from Facebook, LinkedIn and I think other places but I can't tell what. I really did learn things I hadn't known about Cathy. And I was able to start a conversation. "Say, did you know you share the same birthday as Emmylou Harris?"
"Yes," she said.
"Well."
Yesterday I had four meetings and Refresh nudged me with a notification for two of them. One of which was startling because while it was with someone I haven't really known all that long, I had no idea she was a Philosopher with a particular company, I had no idea she lived in Bulgaria.
She hasn't. She isn't.
She's friends with a security consultant who winced at her Facebook profile and said she was saying far too much, she was making identity theft far too easy. So she tells me that she had a quick run through her Facebook page and changed everything to a lie.
I love that Refresh has this almost alchemy-like ability to ferret out information and that it is stymied by good, old-fashion porky pies.
Refresh is free on the US App Store here and the company says it will be coming to the UK.