Late one night this week, stewing with a cold and unable to sleep for coughing, I started to watch Somewhere in Time on Netflix. Don't look for it: the film has gone. Even though I am new to Netflix, I did know that this happens, I just didn't know that it could happen before I finished watching something I'd started.
There's something fitting about it disappearing like this. I have to be in exactly the right mood to watch it and that mood is a bubble that never lasts long. Maybe Netflix is the Brigadoon of online streaming video services and in another hundred years the film will reappear. For a few moments or preferably the film's 1 hour 48 minute running time, it will be as if the movie had always been there.
It does feel a bit like that now: it was made in 1980, and you can tell, but originally it was partly a present-day film, mostly a period piece and so now it feels like two period pieces. If you don't know the film, it's written by Richard Matheson and stars Christopher Reeve and Jane Seymour. I think summarising the film diminishes it and that maybe that's one reason it was a flop on release: it's a time-travel romance. The film only succeeded, only became a huge hit, after it was seen knocking around cable TV channels in the States. So really it only became a hit after people saw it.
If you do know the film, that's not what's on my mind. The book is. I like the movie but for the most part it is a nicer version of the story, it has an innocent sweetness that is sometimes good but often just too much. In comparison, I feel like the original novel tore at me. By chance, this week I've been interviewed for a TV show about my life – I was chosen because of my brilliant and apparently unique availability – and thinking about myself, seeing that film, being caught in this cold, it somehow showed me that this novel is deeply important to me.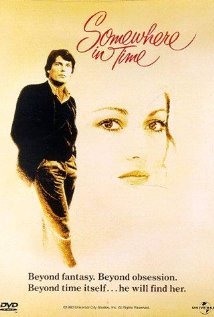 The novel is also by Matheson and it's called Bid Time Return after Shakespeare's line in Richard II: O, call back yesterday, bid time return. Or it was called that: most editions after 1980 rename it Somewhere in Time. It's obviously about time and for whatever reason that has become a profound obsession for me in drama and fiction. I also know that it is the first romance novel I read and while I haven't read that many more since, I've noticed that everything I write is imbued with this. It used to scare me a bit: you might not spot it but I can see time and romance – and, full disclosure, thrillers – in every single thing I write.
I just don't see romance as slushy, I see it as dangerous. That unpredictable, unreasonable, impossible lurch in your life. I'm fascinated by the power of romance, the compulsion, the roaring way it changes who you are and exposes who you can be. I'm riveted by what in the hell makes us admit to someone that we fancy them – and by what it's like when they feel the same. That's not slush, that's primacord explosive.
Picture me forming this opinion when I was around 15. I suspect hormones played a part but I also think it would've been around then that I found the novel. I wish I could remember the details but I think I read it and at first didn't realise how it got into me. I do vividly remember wanting to re-read it and not having a copy. At the time, there was a science fiction bookshop in Birmingham called Andromeda and they didn't have it in stock. Nowhere did.
I remember standing at the Andromeda counter, mentioning to the owner Rog Peyton that I was so disappointed to not be able to find a copy anywhere. And I remember him saying something like "Wait there". This was an independent bookshop where you felt much of the stock was there because it was beloved by the staff and when I say they had a special place in their hearts for Bid Time Return, they actually had a special place in the back. Rog had kept perhaps three or four copies of the book to sell only to people who were specifically searching for it.
At this point the book must've been quite rare and out of print, though the edition he sold me had the film's rather beautiful period illustration on the cover so the movie was out. Maybe it's a sign of how poorly the film fared at first, certainly it was a sign that Rog didn't want people to casually pick up the last copies and chuck them on a shelf to never read.
I say all this to you and I can see me in that shop, I can feel that paperback in my hands. The novel is the same story about a man who falls for a photograph of a woman –– so far, not so very unusual –– but discovers that the photo was taken sixty years ago. It's a funny thing: you know they are going to meet and you don't care how the time travel is done, yet it has to be done in a way that carries you along. Or at least in a way that doesn't drop you out of the story. It's a remarkably fine line and the film is fairly good at it but the novel kills you. You are in that story and you are feverish as Richard Collier of 1971 burns to reach Elise McKenna of 1912.
Then you also have to have their first meeting and even at 15 I thought bloody hell, Richard Matheson is a smart writer. I'm willing to spoil a lot of this for you as it's over forty years since the novel came out and about thirty-six since the movie, but I won't spoil that scene which works well in the film and perfectly in the novel. I also won't go to the filming location and re-enact the moment but people do. A lot.
I want to spoil or maybe just a tiny bit heighten two other moments, though, and especially as I think they're appropriate to writing. One is very much about books and the other is very much about visuals.
The first ties to this business of getting us to agree about time travel: we know it's coming, you don't have to really sell us but you must somehow make it fly. Matheson does all manner of things to set us up for this in the book and his film screenplay does many of the same things but quicker. Yet arguably it all turns on one moment of deeply believable despair as Richard Collier no longer believes or can even hope that he'll ever do it.
Matheson brings us to a moment where we did not see this coming but we should've done: Richard is in a hotel and trying to get back in time to that same hotel sixty years ago. He goes hunting for the hotel's guest books and in one of these dust-caked, mouldy old ledgers, there he is. His name, signed in as a guest in 1912. Matheson plays this as clinching proof for Richard, the thing that makes him believe and so makes him succeed but I keep thinking about that signature waiting there. Throughout Richard's life, that line was in that ledger waiting for that moment of discovery. That line would not be in that ledger if he didn't find it.
Then visually the entire plot turns on the photograph that Richard sees of Elise. The way it's described in the novel and the feeling that is conveyed in the movie is that it seems as if in this photograph she looking at Richard. Even at 15 and certainly now at somewhat older, I'm thinking right, sure, he just fancies her, don't try to make it slushy. But the punch, for me, comes much later when we find out that actually, yes, she is looking at him.
There's a brief scene where Richard walks in on the photograph being taken and the moment of the lens click is the moment Elise has seen him. She is looking at him in that photo and if he hadn't been there, the photo would've been different and maybe he would never have looked at it.
I'm biased because I love the novel, I like the movie and I think about all this far too much. But these are resonant moments that – I'm right, aren't I? – only time can tell.
Read the film's screenplay online
Buy Somewhere in Time the movie in the UK or in the US
Buy Bid Time Return/Somewhere in Time the novel in the UK or in the US