I know I stole this thought from somewhere, but for the longest time I've felt I sit right on the edge between arts and technology. That's nice for me. And actually, yes, it is. I get to write scripts and drama, I get to use tools that help and excite me, I also get to write about those. Typically where these two spheres meet, I get to have a very good time. But not always.
This week, I got an email on my iPhone from a company championing music technology over the arts. Not with the arts, not for, but above it. Use their music system and you will know –– this was the selling point, you would actually know –– that your song is going to be a hit. Or not. And if it isn't, you therefore know to throw it away and do something else until you get it right.
I think this is obviously wrong all round. I'm minded of David Cameron, who apparently once told British filmmakers that they should only make successful films. I remember going a little pale. I don't know anything about, say, the UK's legal agreements with the EU, but I'd ask before I decided I knew best and broke them.
At the time, it was a sobering and slightly scary thought that someone running the country could be that, well, let's cut to it, stupid. Now it would be a bit of a surprise if they weren't.
There was a little more, though. Cameron specifically referenced The King's Speech, the tremendous film written by David Seidler. This is a film that was a worldwide success, absolutely, and a deserved one. However, it was also a historical movie about a rich man most of the world hasn't heard of, working his way up to making one speech. Of all the people needed to make that film happen, you can be certain that every one of them did so because the script was great, not because they really thought it was going to be a blockbuster success. "Hold off on that Batman project, we've got this now."
If Cameron thought at all – and he appeared to spend more than a chance second on it so again how stupid was he? – then what he thought was that it was possible to know what would be a success. You know what films have been a hit before, make films like that. I truly, truly cannot fathom a mind that would think that, then point to The King's Speech, and say ta-daa, that was a hit because all obscure historical movies with no action always have been.
This is all crossing my mind as I'm in my kitchen, reading this email from a firm that wants me to write about how musicians can emulate previous hits and never have to create anything new at all. That's a firm who knows what listeners want. And why musicians write.
I am far from being against mixing technology with music. If I were a musician, you bet I'd be hands on with Logic Pro to master my album. And just now, just before you and I started nattering, I was listening to Francisca Valenzuela's fantastically powerful Flotando. I was listening over AirPods and it was as if the room were full of this wonderful, enveloping Chilean music.
I offer, though, that while I listened over technology, and it was a free track of hers on iTunes ten years ago that got me to try her music, there's nothing else. Nothing in my listening history should trigger any algorithm to think oh, yes, let's play him Chilean pop music he won't understand and is by an artist who has never charted in his country.
Any sane algorithm, any informed analysis of my musical tastes would do the opposite, it would skip Francisca Valenzuela entirely. And I would therefore be missing out on a decade of music I relish, plus right now a song that –– it's true –– I don't understand, but which fills my chest as much as my ears.
Then there is this. This isn't the music technology's fault, they couldn't know that I'd be reading their email on an iPhone. They might have guessed, mind, since the iPhone is –– literally –– the best-selling product of any kind in the world, ever. And if you don't have an iPhone, you have an Android phone.
So take a look.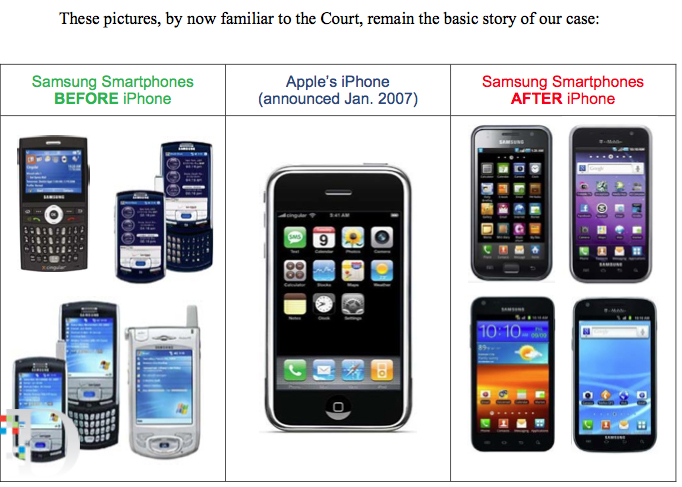 That's a court image from a legal case between Apple and Samsung, but it's broadly illustrative. What I'd suggest is that it would be much the same if you changed it from just these two companies and into a larger chart with every phone from every firm.
It's night and day.
Nothing looked like an iPhone before the iPhone. Everything looked like the iPhone afterwards.
The phone in your pocket, the phone you use a hundred times a day and now feels part of your life –– whether it's iPhone or Android –– is the way it is, is the use it is, because of that 2007 iPhone launch and its success.
In 2007, though, and also 2008, 2009… Apple was mocked for the iPhone. They were mocked for every part that was different to previous phones, such as how they don't have physical keyboards. Literally laughed at. Everyone was focused on what had been a success in mobile phones and everything Apple did that was different, was therefore wrong.
I'm suddenly minded of something totally different. I remember a series of columns in Radio Times where the writer, a key figure on that magazine, regularly moaned how every TV drama was exactly the same. She had a point, she made good points, then she blew it. Because one week there was a drama that was different and she criticised it for not being the same.
Not every new idea is going to work. Not every new idea is good. This week the short-form video service Quibi shut down and I don't miss it in the slightest, I didn't like what they did, but they tried something new and they didn't try it based on what everyone watched yesterday.
I love technology but I also have exactly no interest in technology. What I love is what it enables. You and I get to talk like this because of technology. I deeply love that having now made fifty YouTube videos, I can see how much tighter my scriptwriting is. I profoundly love hearing someone laugh and knowing it was because of how precisely I positioned a shot in the video, I mean how I put it at the one moment, the one frame, where it would be funny.
No question, whatever my comic timing is, it's informed by everything I've watched and read and heard before.
But I am never trying to be like anything I've seen before. I think the real problem this music technology firm has is just that it's completely wrong. The aim of a musician, of a writer, of an artist, is not to produce something that makes cash. We want that, we need that to survive, but if your sole purpose is to make cash, there are a lot easier ways than writing.
I write to find something new. Everything you create, you do to find something new. Now if only we could get Hollywood to work the same way.