Give me a situation where one man and one woman are competing to write a particular piece of drama and I will ask why you bothered telling me their gender. It's the piece I'm interested in, it's their writing. I can't conceive of a single possible reason that my knowing the sex of the writer would make any more difference than knowing their height.
Only, give me a situation where 86 percent of primetime television is written by men and now gender matters, now sex is telling me something is seriously wrong here.
Writing is not fair but then it shouldn't be. Writers don't get work just because it's their turn. Not everybody should get to have a go. Because as much as I am a writer, as much as I care about writers, I'm a viewer first. I don't tune in to satisfy a need in me for statistical balance. I tune in to watch and to be transported by writing that takes me places I don't know with characters I've never met.
I want new.
And I ain't getting it when 86 percent of television drama is written by men.
It's not as if you suspect these men are the most diverse group, either, and that's something the Writers' Guild is looking at with Equality Writes. That's a campaign launched this week that wants to fix film and television by making the industry recognise what's actually happening. Get programme makers talking about it, get audiences talking about it, and maybe we can finally do something about it too.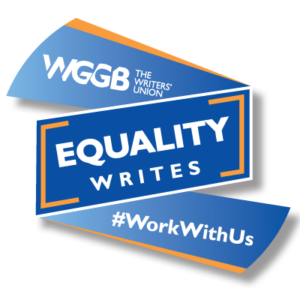 Equality Writes starts with men and women because there are figures you can get for that imbalance. That's why I know the 86 percent figure: it was uncovered during the research for an exhaustive and exhausting report that the Writers' Guild commissioned. I nearly didn't read that because I thought I already knew it was ridiculous how few women get to write for the screen. But then I'd see the report's figures and then I'd see the report's graphics about all this.
I did hang on for a while to the hope that things are getting better. Plus it's a report about the industry today, maybe we're just in a peculiar slump.
No and nope.
That's the real jolt of this report and this campaign to me: the percentage of women writing television and film has stayed consistent for the last decade.
For 'consistent' read 'low' and for 'low' read 'crap'. It is just crap how women aren't getting to write and it makes me blood-angry that something is stopping me getting to see the writing of half our species.
I would like that to change now, please. And I work for the Writers' Guild, it makes me proud that they're doing something about it. Do join them, do join me in putting your name to the campaign too.