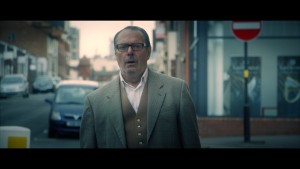 Here's a nice way to look at something: I can tell you that I've written my first short film and that it is a gorgeous piece of work that centres on my dramatic obsession about time and its passing, time and its inexorable movement, time and regret. That's a nice way to look at it and it is in all ways true, except it isn't.
Taking Time is a short film produced by Ian Kennedy, directed by Gabe Crozier and starring Denny Hodge. It was written by Ian Kennedy, Andy Conway, Liz John, Mark Brendan, Nicola Jones and me, William Gallagher. I am unquestionably the smallest part of that list but it's a big deal to me.
Sitting in that cinema on Tuesday, seeing my section of our film and especially seeing my name on the credits, that was quite a moment. I'm reminded of the first time I was in a magazine, the first time I was in a newspaper, the first time I was on television, the first time I saw actors on TV saying my words, the first time I saw a cast doing that on stage, the first time I had a book of mine in my hands. I remember the first talk I gave, the first workshop I ran, the first time I went into a school. Really vivid, all of them, and my credit on that screen is there in my head forever.
Well, I hope so. For some reason I can't remember the first time I was on radio. That startles me: I could make a good guess: it would be on BHBN, the Birmingham Hospital Broadcasting Network – hospital radio that at the time went out to twenty hospitals in the region – and possibly followed quite soon by BBC Radio WM. But I don't know, can't remember.
I'll worry about that later. For now, I am just enjoying that I have a film out. Okay, it was premiered this week and it's next showings will be in film festivals so I can't yet point you to a screening time. And it's not my film, I am that tiny cog.
No.
Bollocks to that.
I'm talking to you, I'm not writing a press release, so this is how it is: it is my movie. I wrote a film. It premiered this week.
You can read more about it on the Screenwriters' Forum website where you'll also find out about the Forum's new script development workshops. That's another excellent thing that Forum chair Ian Kennedy has introduced.
That's a thought. You're nice so you're thinking I'm being modest about my contribution but no, I'm a cog. And here's an example for you of where credit should really go. I used to be the chair of the Screenwriters' Forum and in my last meeting I think I had about six members turn up plus we ran out of apple juice.
For new chair Ian Kennedy's latest meeting, he had a full-house cinema audience and a movie with the whole thing covered by BBC Midlands Today.
But it's still my film, right?