I do a monthly report about what I've done – last year for a project called Room 204, this year for you, both years really for me – and it's always been a bit easy because I make proper notes as I go. Except I forgot to do that in May. For the entire month, I forgot. Not once did it enter my head. Must've been a quiet month.
But these things really do help me so I didn't want to forget again. If that sounds obvious, this will sound more obvious: I decided to use my iPhone to help me.
This is going to be really specific but please treat it as an idea of the type of things you can do rather than a recipe for exactly how I think you should do it. Also, please treat it as being infinitely faster to do than it is to describe.
This is what I do when I've done something I want to note:
There's rarely a minute my iPhone isn't with me so whatever I'm doing, whatever I've just finished, I can easily tap on the Drafts app I keep on the home screen.
The thing with Drafts is that when it pops open, you start writing. (See second shot down there on the right.) Think later about where that text will go – is it an email, an iMessage, an Evernote entry? – just type for now. Plus I use TextExpander which is yet another app but it works with and within Drafts so I just type the letters XTD (TD for Today, X for just in case I ever need to write a real word beginning with TD) and the date appears.
It's the date plus a dash and a space. After that, I type as quickly as I can and then tap the Share button. What you're seeing here is the end result: I've written my note about a thing I've done today (or am about to do, actually), then I've tapped on Share. Tapped on "Save for That Was Month" and Drafts has done it. It has sent that text to Evernote. It's left up here so that I can choose to send it somewhere else but instead I just put it away. Next time I open Drafts, I've got a blank screen ready for anything else.
That's it.
Except look at the shot below: that's a grab from Evernote on my iPhone and you can see it shows that same text I just wrote in Drafts.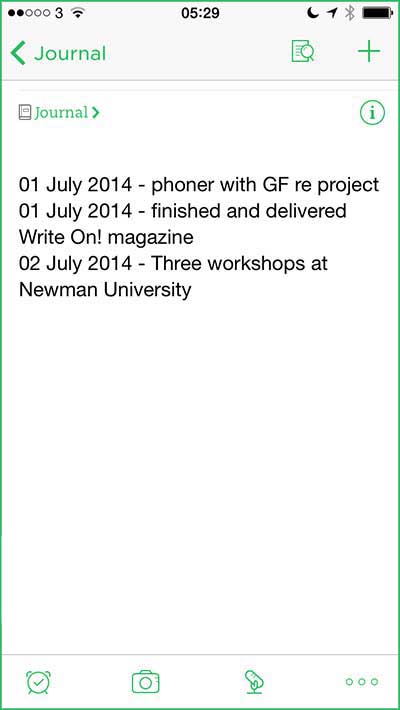 Drafts has sent that text to the end of a note. So I have a That Was Month note in Evernote and Drafts just keeps adding to the end of it. In some ways it's even more satisfying than my old manual notes because you don't think about it, you don't see any of it but the latest, until you go in to check and there are all these things entered.
I should explain that you have to set up Drafts to do this. I don't find that as easy as some people do but you can see I've done it a few times: as well as this That Was Month business, I have a Story Ideas option that does much the same thing. I think of something I can use in a script or a book, write it down, tap Story Ideas and it's off into an Evernote note.
And I have a general Save to Evernote which, actually, I've never used. There are other options below it such as Send to OmniFocus or Email or whatever. A lot of those come with Drafts, the others I've gone through setting up what I want. Telling Drafts I want to send text to this particular app or service, to add it as a new note or append to a particular old one, that kind of thing.
How long did that take you to read? Divide it by oodles and that's how quick it is to use this thing. Which, frankly, means I use it. Did I mention that I have Drafts on my iPad too? So if I'm working on that, wallop, same thing. I don't believe there's a Drafts for Mac and maybe I wouldn't buy it if there were: it would seem daft using it on a Mac when I have Word and Pages already.
So you know, this is what all this costs and where to get it. Everything but the iPhone, that's up to you:
Drafts for iPhone: £2.49 UK, $3.99 US
Drafts for iPad: £2.99 UK, $4.99 US