It's called Knozen and thank goodness I can't test it for you: you have to have a company of at least seven people who have all signed up. It's just you and me here and I think you're great.
But if you were to have seven people and you were to use this service, this is the type of thing Knozen would pop up with on your iPhone: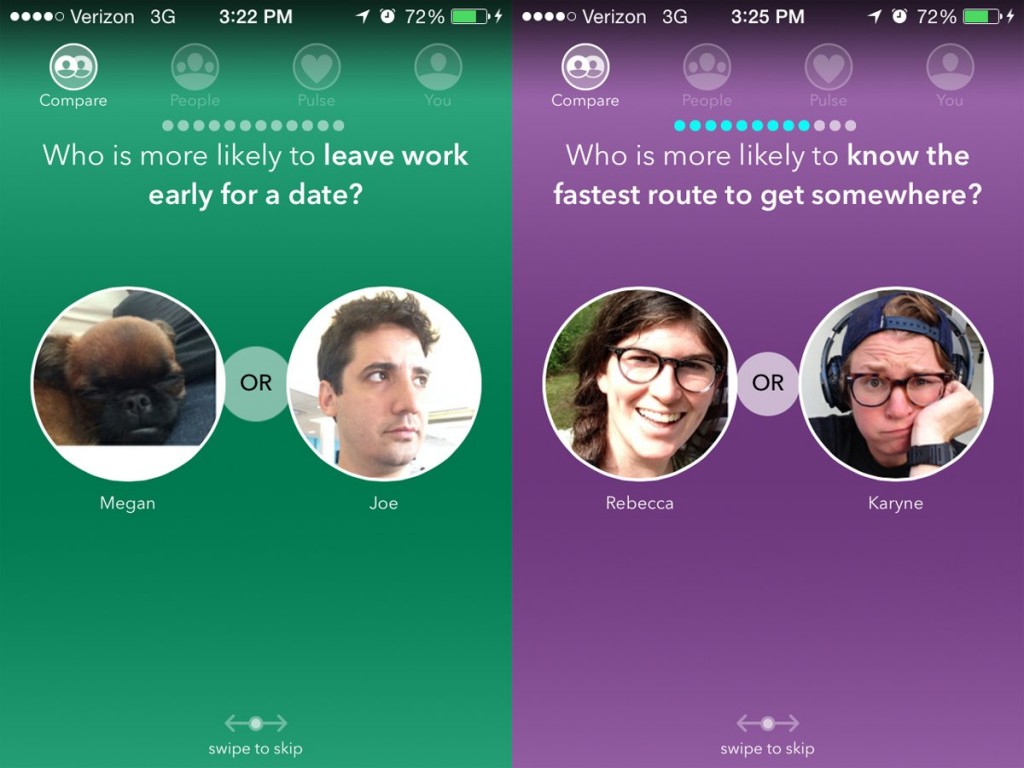 Those shots are from Business Insider which was able to test it out and so also got screens like this: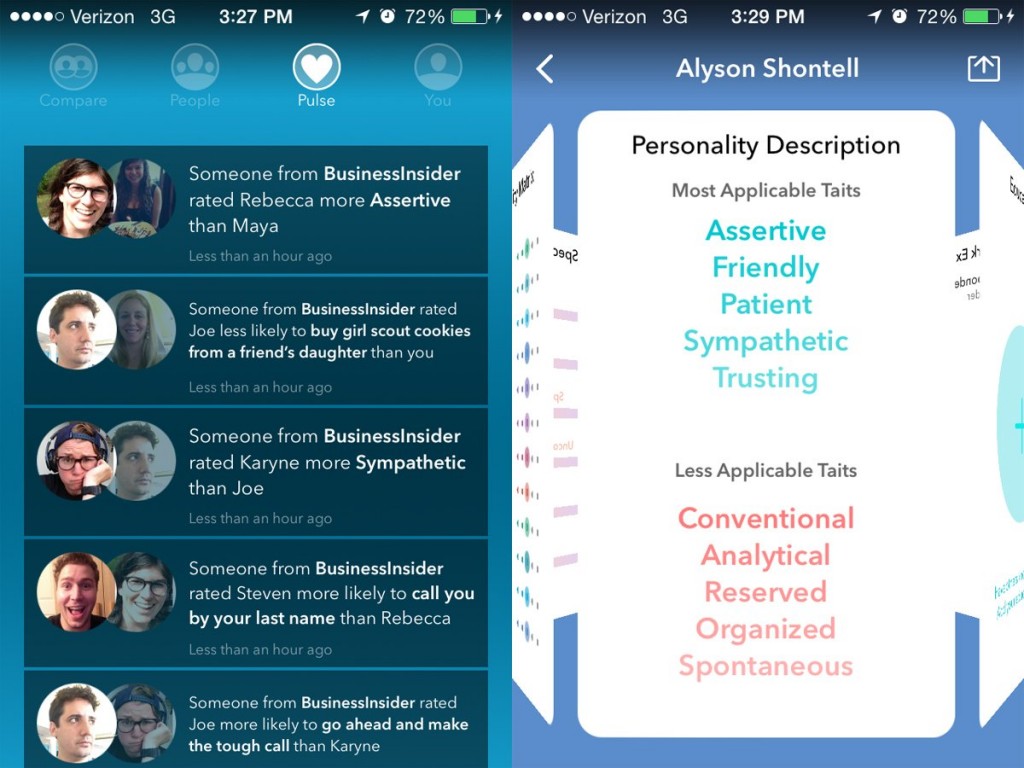 That's the data for Business Insider journalist Alyson Shontell who wrote the article about Knozen that gave me a double take. From her piece:
Knozen is a new iPhone app that lets coworkers rate each other's personalities anonymously. It's like Lulu is for men, or Yelp is for restaurants.

Founded by former Ladders CEO Marc Cenedella, Knozen pits two coworkers against each other and asks the user a series of questions such as, "Which person is friendlier?" or, "Who is more likely to buy cookies from a girl scout?"

The user then selects which coworker best fits the description and is told how many other colleagues voted the same way. At least seven people from an organization need to sign up for Knozen before they're allowed to start rating each other to protect everyone's identity.

Knozen might sound like a recipe for disaster, but Cenedella argues that it's merely a way to "bring personality to the internet" and that the content is always "positive and upbeat." You won't find questions about a co-worker's appearance, for example

New App That Raised $2.25 Million Lets You Anonymously Rate Coworkers – Alyson Shontell, Business Insider (30 June 2014)
I'd not heard of Lulu – other than the apparently completely separate printing and publishing company – and I also can't seem to get you a link. But it's reportedly a women-only app that takes your Facebook friends list and lets you rate the men you and mutual friends know.
But I'm minded more of the Bang with Friends app which became famous for upsetting the delicate sensibilities of Apple for the word Bang and reportedly for having problems with games manufacturer Zynga whose apps include "Words with Friends". It renamed itself Down and says it's "the anonymous, simple, fun way to find friends who are down for the night" and you're saying yeah, sure, and why exactly is it anonymous?
Like Knozen and Lulu, it presents you with a list of people you know – this time solely through Facebook – and you can say whether you would like to get down with them. Look, we're talking sex. It's a who-do-you-fancy app. The thing of it is that if they also have this Down app and they have also said they fancy you, sparks are automatically messaged back and forth and either very good or very bad times happen.
I know this because I was hugely amused by the naming problems: with Apple disliking the 'Bang' and Zynga objecting to the 'With Friends' bit, there wasn't a lot of the name left. Obviously I don't know this because I use the app myself and nobody fancies me.