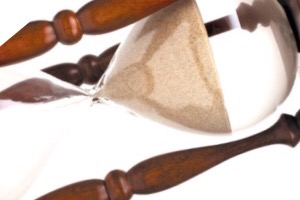 If I weren't such a nice guy, I'd steal each one of these thirty and claim them as my own, once a day for the next month. And actually many of them are ones that I do so, you know, if they pop up again from time to time, it's coincidence. But this collection of short tips is a smart read and it's also got several tips that I did not know before and fancy using now.
Such as the very first two of the thirty:
1) Buy an hourglass.

Lots of us use timers to break up our tasks into manageable chunks. But how many times have you turned over your cell phone to panic about how little time you have yet? Invest in a couple of hourglasses that measure different times. You can see immediately how much time you have left, without having to calculate what you can get done.

2) Get a clock.

Did you know that the subtle sound of a ticking clock could make you more productive? The tick-tock gives your subconscious a sense of urgency so you work faster. If you don't want a clock, there are plenty of timer apps that allow you to turn the tick-tock sound on.

30 Productivity Tips You Might Not Have Heard Before – Sasha Graffagna, SuperheroYou (20 August 2014)
I've got a ticking clock and it isn't ticking so much for some reason, but I'll look into that. I'll also look into the hourglass, maybe as a Christmas present to myself, as asking Siri to set a timer on my iPhone for an hour is so passé. I'm looking at that Koch 11000 1-Hour Hourglass Renaissance, pictured above. I'm just looking.
Read the full piece.