The Evernote company has just announced it will now ship to addresses in Europe. What it will ship is a collection of bags and clothing that are fine but also some hardware that is rather good. In particular, there is this: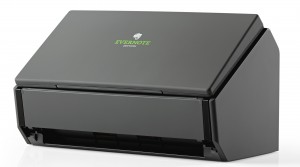 That's an Evernote edition of a ScanSnap scanner of which the company says:
The ScanSnap Evernote Edition, a collaboration between Evernote and Fujitsu, is not only the first of its kind – it's the best in its class. You can put nearly anything in it, push one button, and with lightning speed it scans, senses, and autofiles your photos, receipts, business cards, and documents into your designated Evernote notebooks. Before you can walk away for a cup of coffee, you'll get a simple notification to let you know Evernote has done your filing for you.
Except, you pay a lot for the Evernote colour and logo. I mean, a lot. This model costs £475 through Evernote Market but is functionally equivalent to the ScanSnap iX500 which you can currently get from Amazon UK for £318. In the US, the Evernote edition is $495 and the iX500 equivalent is $424 from Amazon USA.
I started telling you this because I thought it was good that Evernote Market was expanding outside the USA but now I'm just going to stick to Amazon. Still, take a look at Evernote's description of the scanner as it's good – and the market has other products.