Stop reading this and go get both the iPad and the separate iPhone version of Things on the App Store.
Are you back? Things is important because it's a very good To Do manager and I don't believe it's ever gone free before. I could be wrong, but To Do apps fall into four tiers that they generally stay in. There's your free ones, your low-price, your higher price and your OmniFocus.
To my mind OmniFocus is the best by far and what it does for me is worth an awful lot more than its asking price. I used to say that I relied on OmniFocus so much that if I had to pay the money again, I would. I don't say that any more – because I did pay the money again. New versions came out and I bought them faster than you can read this sentence.
But.
Before I found OmniFocus, I very strongly considered Things.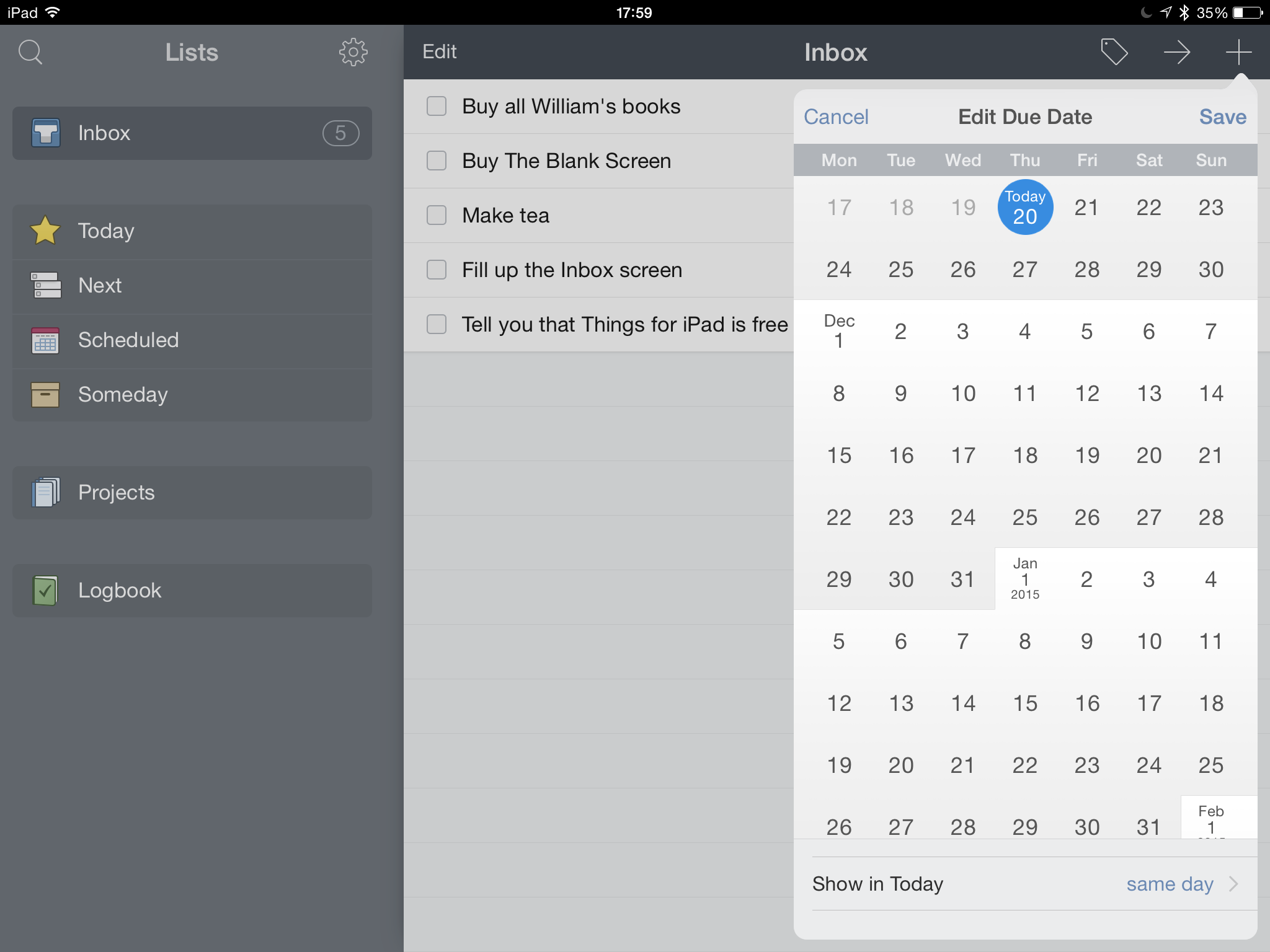 In its favour, it has a great name. I've got Things to do. Sold. I am a sucker for a good name and this is a good name. Then it seemed to me that it was more powerful than anything else I'd tried up to then and at the time I was moving to needing something with much, much more oomph. I had so much more to do at that point and actually it's only got worse.
Also, Things looks great. Today I'd say OmniFocus looks very good and even if it didn't, the look wouldn't be enough to make me switch. Right now, this minute, nothing is enough to make me switch. But you spend a hell of a lot of time in your To Do app so the look – both in terms of its aesthetics and in how it works for, what you press and what you tap – that's important. You can't quantify it but you also can't deny it.
In the end, I think I tried the Mac version and it just didn't take. Not for me. I wish I could tell you why, I wish I could point to something. I can with the iPad version that I've just downloaded and played with: there doesn't appear to be a way to set a start date for a task. A deadline, sure, but not a start date. I regularly now have work that is scheduled months out and while I need to plan for them, it's unproductive of me to plan now, to plan the day before, or to have a reminder every day in between. So I tell OmniFocus that my planning task should first show up on my list about a week or a fortnight before the due date. Can't see a way to do that with Things.
Sometimes this stuff can be a bit buried under preferences and suchforth so I could be wrong.
And I told you I just downloaded this to play with. I did that to get you the screenshot above and to see what Things looks like now, a few years down the road. Why not? It's free.
Until 28 November.
Because the reason for this rare free-dom is that Apple has chosen Things as its app of the week. Come next week, something else will go free.
So go grab Things right now. Remember that the iPhone and iPad ones are separate, they're not universal. So grab them both right now. Even if you haven't the time to play with them, grab now and you can use them tomorrow, next week, next year, whenever you have a minute or a need.