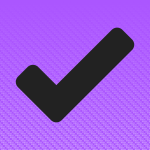 What do I mean by everything? EVERYTHING.
If it's something you have to do, if it's something you want to do, if it's something that might turn into something that has to be done by somebody, save it in OmniFocus and worry about it later. Get it into OmniFocus's inbox and get it out of your head.
When you get time, go through that inbox and have a think. You'll find that you delete a lot, you mark many others as done, and the rest you have a proper ponder about. Slot this task into that project, add a date or don't – preferably don't – and do what's called processing everything. When it's all slotted away and your inbox is clear, everything is off your mind and it's all in your one OmniFocus system.
This came up in a mentoring session I did earlier this week that, unusually, was dedicated solely to the use of OmniFocus. It was for a fella whose workload made me go pale and who has been handling it all on paper. Now he's taken to OmniFocus like an evangelist in the making, but I think he has one issue left.
What I've said to him is that if he gets into the habit of saving everything to OmniFocus, he will come to know that everything is in there. No more wondering if there's another list in another notebook. I'm lighter for knowing where I am with everything, even if right now I'm under the cosh with too much to do.
The thing for this fella is that he will have to work to make the habit of saving everything to OmniFocus and especially so because he uses a PC. There's no OmniFocus for PC. Here on a Mac, even as I write to you, I can tap a couple of keys and add a task in to OmniFocus 2 for OS X while it crosses my mind, but he will in theory have to stop working and get out his iPad.
I'm advising him to instead use email a lot. I've already shown him how when somebody emails you with something you've got to do, you can forward it on to OmniFocus and it will land in your inbox. The subject of the message will be the name of the task and the content of the email will be in the task's notes.
But you can also just email OmniFocus yourself. Got a stray thought? Email it in to OmniFocus.
It's not the same as having the To Do app in front of you all day, every day, but that's not a bad thing. Get used to checking it regularly and get very used to saving everything to OmniFocus and you can then spend the rest of your time actually working on all these things you've got to do.