It's a To Do manager especially for visual thinkers – and as of today it is on Android as well as iOS and the web. Droptask does this:
DropTask is a powerful productivity tool enabling you to visualize your workload in a unique and engaging way. Simply drag and drop tasks for all your essential to-dos, and organize them within larger colorful circles to truly see the bigger picture. With powerful functionality delivered intuitively to the user, DropTask adds simplicity to even the most complex projects and provides effortless task management for teams and individuals alike.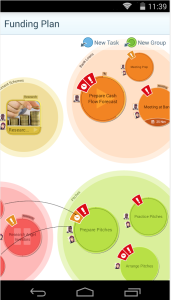 Take a look at the official site or go straight to the Google store for the new Android version.
Alternatively, wait for me to get my finger out and review the iOS version like I've been trying to do for two months. There is an irony in how I fail to do a review of a To Do app, but it's not an irony that helps you much. But if you like Droptask on Android or the web, do take a lookout it on iPhone and iPad too.