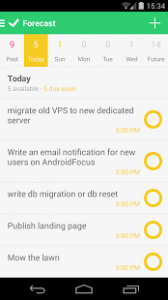 OmniFocus – have I mentioned this To Do manager recently? Like, in the last hour? – is solely available for Macs, iPhones and iPads, nothing else. But as of this weekend, there is AndroidFocus: a completely unofficial Android version.
It's not really OmniFocus, it's more a quick way to enter or to see OmniFocus tasks on your Android phone. It has fewer features than the real iPhone one and you it depends on your having an account with the Omni Sync Server. That's free but you get it when you buy a real OmniFocus. So if you are, say, a Mac user with an Android phone, this could be for you. Note that the Omni Group isn't trying to get the clone removed but it does warn:
An app named AndroidFocus recently appeared in the Google Play Store. This app calls itself "An OmniFocus client for Android", and can connect to an Omni Sync Server account in order to sync with the OmniFocus database that is stored there. To be clear, AndroidFocus is not an Omni Group product and we are unable to assist customers with using the app.

We believe that you should have control of your own data, and OmniFocus therefore uses an open file format just like the rest of our applications. Customers need to be aware, however, that reverse-engineering sync in the way that AndroidFocus appears to have done can make for unpredictable results. That means it's theoretically possible that using AndroidFocus will cause data loss which our Support Humans are not equipped or able to help you recover from. For this reason we can't recommend using AndroidFocus.

Using AndroidFocus with OmniFocus – Omni Group Support Document 
So it doesn't do a lot and it could well break the next time the Omni Group changes anything or updates anything in the real OmniFocus. Yet still I would be buying this now if I had Android.
AndroidFocus official site and Google Play Store: £4.10 (UK), $6.99 (US)