An editor I particularly liked working for once told me she knew I was serious about what I did because of my watch. This was Helen Hackworthy on Radio Times and she is smart. She's the only editor who ever spotted that I signed off emails with a capital W when things were fine and a lowercase w when they really, really, really were not.
What she'd also seen was that when I'd sit down at that BBC desk, I would take off my watch and place it next to the keyboard. She saw that as my being conscious of time, determined to get things done, all sorts of professional things that I'd love to have been correct and I hope weren't entirely wrong.
But they were a bit wrong.
Quite a lot wrong.
I used to take it off because that watch had a metal strap and it kept scraping against the keyboard.
I remember this, I know this, I remember Helen and I talking about it, I remember her laughing when I explained but I cannot remember that watch. I've had many watches over the years and – exactly like you, admit this now – I haven't worn one regularly since I got a mobile phone.
Somewhere in the set of watches I've had there was that one with the metal strap and I know there was a Casio thing in the early 80s because the same watch is a plot point in the 1983 movie Blue Thunder. That was a helicopter adventure, an aerial paranoid thriller and apparently it's going to be remade now with drones instead of the chopper. This is either modernising the tale or making it cheaper.
But of all the watches in all the bars in all the towns, there are three that matter to me. And they're all in this shot.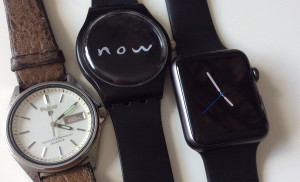 The one on the left there with the brown leather strap is the watch I was wearing when I first met Alan Plater and Shirley Rubinstein in the late 1980s. They became friends of mine but then, on that day, I was just meeting and interviewing Alan. I was all kinds of nervous: not just because he was already a writing hero to me but because this was my first big interview with anyone.
That man was so interesting in that interview that 25 years later or so, quotes from it were used in a set of DVD liner notes and about five years further on, I used quotes from it myself for my first book.
But for all that, there was this: the watch stopped working soon after I met Alan. I don't know how to blame him but I do. Except that I kept the watch because of him and I quietly wore it again just one more time at his funeral in 2010.
See the watch in the middle of that shot? The one that looks like it says 'now' underneath the watch face hands? It does say now but it's not underneath anything: there are no hands. That is it. The word now. I have to tell you, it is the most accurate watch I've ever had. Never have to wind it, either.
I do think it's been losing a little time lately but I still wore it because I like it and because it was given to me by Angela.
But then it would be Angela who pointed out a few months ago that this watch's time was up, so to speak, that its days were numbered. She said that as soon as the existence of the third one in that shot was announced. It's an Apple Watch and I could do you a review here but instead let's just take one fact about it.
Apart from the Now watch which I've worn a lot yet far from constantly, I have not had a regular watch since I got my phone in 1997. That's over. I have a watch again and it has slipped into my life as if I've always had it on me.
My watches up to now, where I can remember them, have been reminders of things that have happened or of people who matter to me. Now my Apple Watch actually reminds me of things I have to make happen and it is how I keep in touch with those people. Quite literally keep in touch as you can send tap, tap, taps to fellow Apple Watch owners.
But it will also always remind me of buying Angela one at the same time. It will remind me of how hers came ages before mine. And now it will remind me of talking about this with you.
Don't tell anyone that bit about my only taking my watch off because it scratches, okay? Who knows, maybe other editors projected qualities on to me like that.