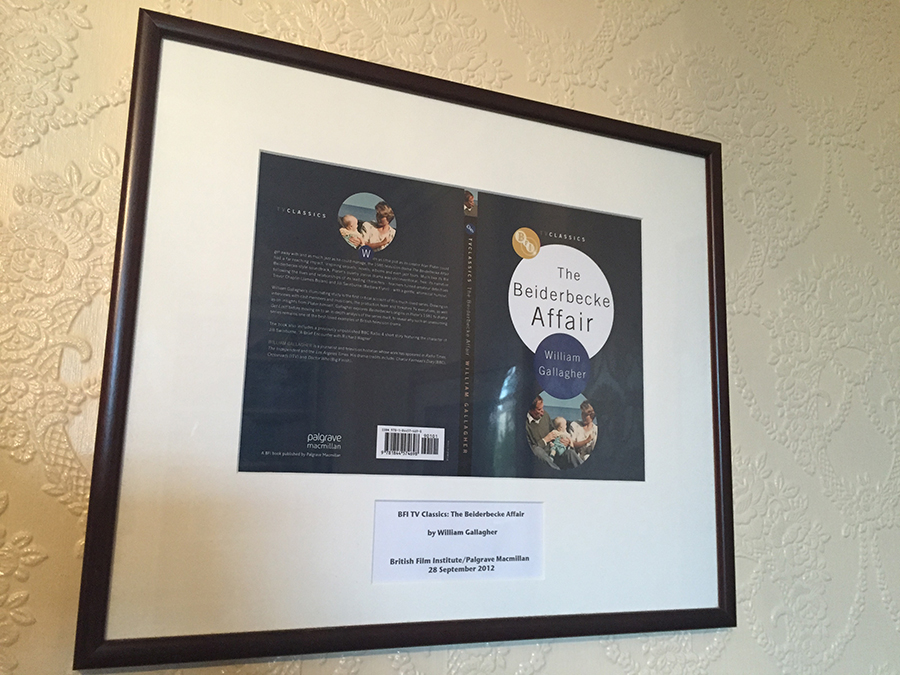 It is not three years since my first book came out, it is not. T'isn't. And it is therefore not three years since I got its cover framed. But it's very close to three years and that's why this week I finally put it up on the wall. I did put it up there to mark that I was finally doing things I'd intended to ages ago – both literally in terms of banging that picture hook into the wall like I said I would in 2012 and figuratively in that I've just finished my seventh book.
But you can do things and not realise what you've done until you step back and look at it. Or in this case, when you step back and look just a little bit to the left.
My first book was BFI TV Classics: The Beiderbecke Affair and was a non-fiction piece about Alan Plater's famous, even beloved TV drama. I proposed the book to the British Film Institute a few months after Alan died in 2010 and though I meant what I told them about why The Beiderbecke Affair warranted coverage, I did also have in mind that I wanted to write it for Alan. I could never do a biography of the man, but I could do a biography of this particular show.
The Beiderbecke Affair means a lot to many people and for me it's special because it's how I got to meet Alan and his wife Shirley Rubinstein. But Alan wrote an astonishing number of TV shows, stage plays, radio drama, films and novels and there are many special titles in that career. I've re-read his simple, quiet, strong novel Misterioso twenty times since it came out in the 1980s. And if that whole book and the entirety of The Beiderbecke Affair mean a lot to me, there is a single moment in another of his works that always makes me cry.
It isn't sad. I might well cry at a sad thing, I'm not saying I definitely wouldn't, but there are just little pixels of perfection in drama that affect me down to my core.
Alan Plater adapted Olivia Manning's excellent Fortunes of War books into what was at the time the most expensive BBC television drama ever made. It's the one where Emma Thompson met Kenneth Branagh. It's the one where Ronald Pickup played Prince Yakimov while waiting to star as the baddie in a Doctor Who radio drama of mine 25 years later.
You need to see the entire series to be taken to the right spot for this key moment but the key moment is the final exchange of dialogue between the characters Harriet and Guy Pringle. It moved me in the 1980s, it moved me when I read the books, it has moved me every time since. And during my research for The Beiderbecke Affair, I found Alan's scripts plus his notes on Fortunes of War.
He set out his stall not only of how he intended to dramatise the novels but specifically why. He wanted to keep in the forefront of his mind and the minds of everyone involved in the production exactly why this story was worth doing. And that reason came down to one single line in the novels. It's the same line.
I like that he was as affected by that line as I was. I like the idea of him crafting hours upon hours of television drama all to take us to the same moment that moved him in the books.
I like this so much that even while I was still deep in the research for my book, I photographed that final page of his Fortunes of War script. Photographed it, blew it up to A1 size, had it framed and immediately put it on my wall. I then photographed that photograph and put it on Facebook, as you do.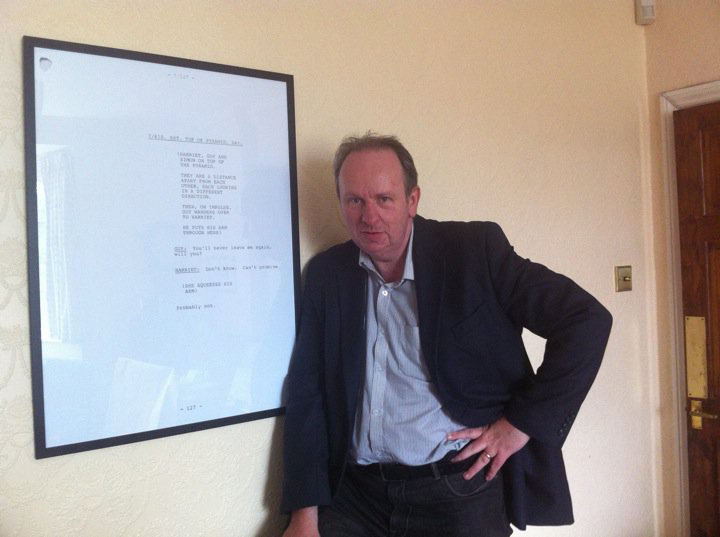 You can't make out the text, can you? Here's the photo I took on my iPhone while in the Hull History Archives and their collection of Plater documents. The world being how it is now, I can tell you that I read that page and took this shot at 15:16 on 11 July 2011.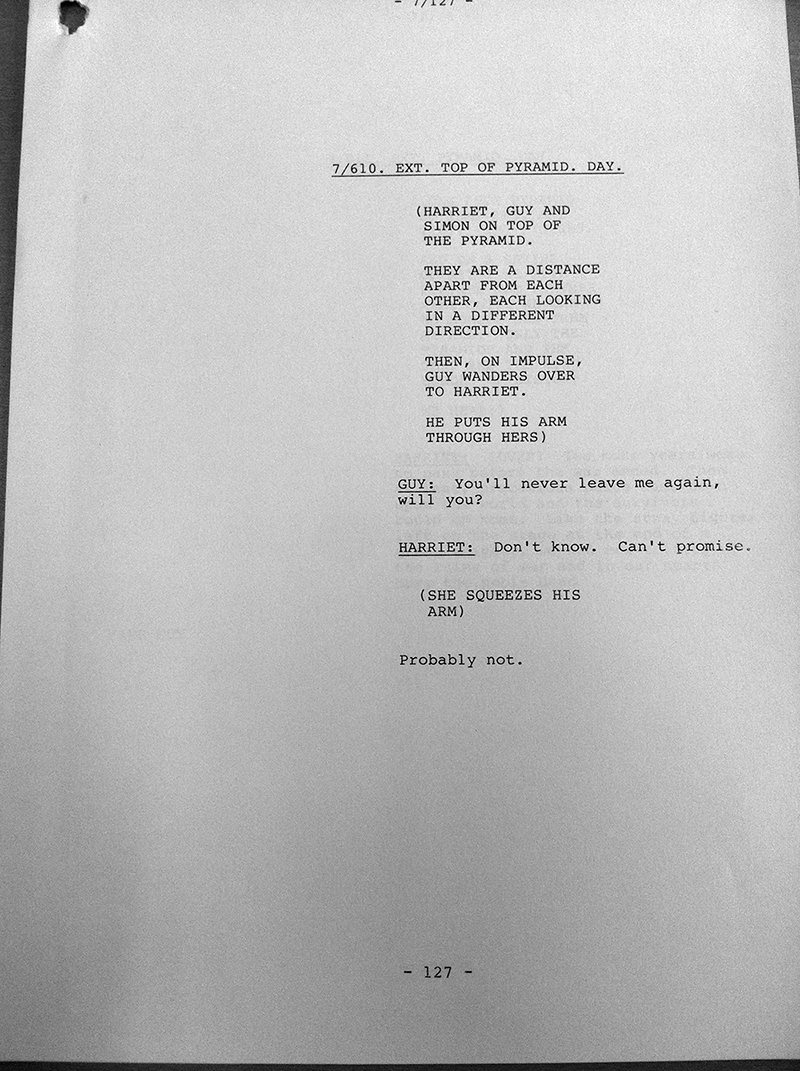 That's the page of script that has stood up there on my living room wall for many years. Want to see how it turned out in the show? I can't embed the clip but have a look at this final scene – and then go buy the whole series to get to that end moment the way you should.
Now look what I did this week. Unthinkingly. I actually hung up several pictures of various things that I've been meaning to for ages and I promise that they are neatly, aesthetically arranged and balanced and it is all very nice – but look what I did.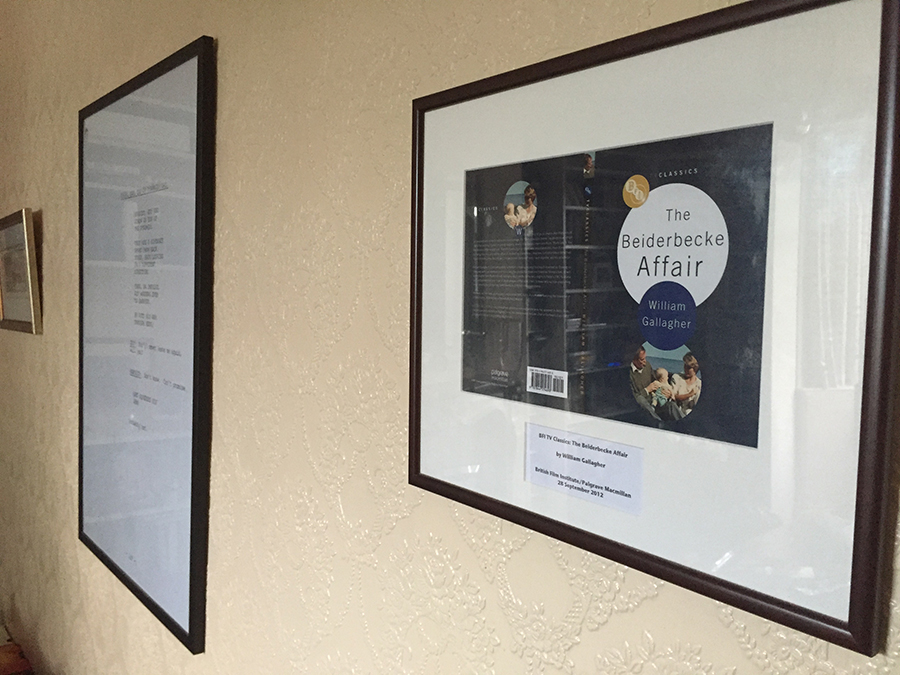 I put my Beiderbecke book cover up on the wall next to Alan's Fortunes of War script. I did it because it was the right spot for it – I just didn't 100% understand that it really was the right spot. I did not realise what I'd done until I stepped back to check it was even and then registered the two framed pictures together.
Yes, I may have had a little damp-eyed moment there.