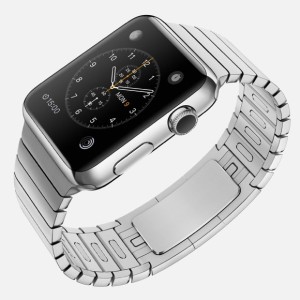 This is going to take a time to get to its point, sorry. But Apple released details of its new Watch this week and a certain segment of the world has fallen apart.
It's a pretty small segment yet it's a loud one. And it's saying Apple is bad, very bad. The watch does this or it doesn't do that, it costs this or it doesn't cost that, every bit of it is being criticised in volume. Mind you, what it does is also being praised in volume.
I was just disappointed – not surprised, to be fair – but disappointed at some of the reactions. I've nothing to do with Apple, they didn't ask my advice on anything, but still I was disappointed because in many ways and at many times I've been a professional reactor. I've been a critic, I am now again writing software reviews. So I can't help looking at critics with one eye on what they're doing and one eye on whether I'm doing it too.
Here's a criticism of Apple: one version of the Apple Watch costs £8,000 ($10,000). To me that's one fact with an implicit second one – that I will never be able to afford that version – and this is all. Nothing else. I can't extrapolate from that anything but that it's a lot of money that I neither can or want to spend on a watch.
But to some critics this is ostensibly the end of Apple's ambition to be "for the rest of us". That's it, Apple is cashing in, Apple is just out to make money, it is the end of days.
There is that word 'ostensibly", though. It is a fact that articles slamming Apple get more readers than ones praising it. Most people wouldn't bother reading either, but if you're an Apple hater then you enjoy the criticism. If you're an Apple fan, you rather enjoy riffing on how pathetic the criticism is.
So I look at these criticism and I can't tell whether they are genuine or just after getting some more readers. If it's the latter then what can you do, haters gotta type.
But that does niggle at me. Professionally, I'm twitching at the thought of writing something whose sole purpose and existence is to get people to read it. Personally, I've realised that these criticisms have an impact.
Follow. I was on the MacNN podcast this week when Malcolm Owen talked about various Android phones that have been announced. He was quite dismissive of them and I asked about one Android feature that I think sounds really good: the way that if you put your phone face down on a desk, it mutes. Goes into Airplane Mode. Whatever the Android term is for not interrupting you while you're working. I like that and, okay, I accept that a feature touted as being on Android first usually means it's on one Android phone somewhere in the world first.
It's on Malcolm's phone and he says nope, he only ever got it to work once.
The hype of an Android feature had convinced me this was useful and I unthinkingly, certainly naively, assumed that it worked. Silly me.
So doubtlessly there are people out in the world reading and hearing criticisms of the Apple Watch and consciously or unconsciously making a decision about it. If all you hear is that it costs £8,000, you're not going to consider buying one even though the real price is £299. That's 26 times lower, by the way.
Now, someone buying or not buying an Apple Watch isn't significant. They might love it if only they'd bought it; they might buy it and hate it. It's just that seeing everything through the lens of perhaps self-serving criticism and being quick to diss before hearing anything substantial is so familiar to a writer. We have to be hard as writers and we are, it's just that the thickness of our skin only protects us, it does not protect the work.
A piece of mine got a lot of criticism last year, criticism that – hand on heart – was in part so asinine that I had to bury a laugh. ("It should be a supernatural novel, I like supernatural novels.") I went in to that session ready for a promised skin-tearing time and didn't get it. Yet I haven't written one word more of that book since. The criticism didn't affect me, the critics didn't affect me, but something affected that novel.
Nobody is ever going to get more readers because they're criticising me but that doesn't mean there aren't other issues at play. The need to be heard, an inability to not say anything because you've got nothing to say. The expression of your own issues instead of anything to do with the book, the presumptions that one's own preoccupations are correct and vital and important.
In that group, there was someone who's set a novel in some particular area of London I'd never heard of. We weren't in London, I'm not from the city and it's not like the area was Westminster. I got the most deeply pitying look for asking where it was. The look was: you should know this, you aren't a real writer, are you?
I'm just minded of this by a Facebook status I read this week about the Apple Watch. This is someone on Facebook, there's no issue of getting more readers or not. It's their real opinion. And their opinion is that the Apple Watch is of no interest because it doesn't have X or Y, I can't remember what. It wasn't that the Apple Watch was of no interest to that Facebook writer, that would've been fine and normal, it was a dismissing dissing of the watch.
Whatever it is in us that makes us judge things before we see them ourselves, whatever it is that makes us slot ideas into categories and then judge those categories, let's give it a rest.
Apple will keep on making that Watch unless the real thing, the actual physical product in people's hands, proves to be a failure. It won't stop because someone thinks it should run UNIX or needs to be set in a particularly obscure part of London.
Whatever you're writing, write the damn thing and bollocks to anyone else. Get it done.