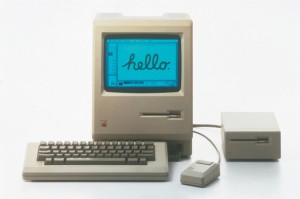 It's thirty years since Tommy Cooper died on live TV. It's the thirtieth anniversary of Colin Baker's first trip in the TARDIS and of Virgin Atlantic's inaugural flight. Also, importantly, it's three decades since some sports thing. But of all the things that happened in 1984, I'm feeling compelled to talk to you about just one –
– no, two.
Officially this is also the 30th anniversary of Cyndi Lauper's debut album, She's So Unusual. I remember that so well: I remember the feel of the vinyl in my hands, I remember that it was an unusual impulse buy of an artist I'd only vaguely heard of. I remember that it was the first album that felt like a single body of work to me instead of a series of songs. And I remember that was because it seemed so strikingly clear that Side 1 was terrific – Money Changes Everything, Girls Just Want to Have Fun and Time after Time were all there – and that Side 2 wasn't.
You don't remember when albums had sides. I hate you. Give me my biscuits back. For my part, I don't remember exactly when I bought it but the album came out in 1983 so it bothers me that it's this year that a 30th Anniversary edition is being released. I'm wondering if they'll sell me the first half.
But I know I'll buy it, I know the odds are that I'll buy it online and I know for a fact – because I've just done it – that I called up the original album right now on iTunes. Curiously, it's the only Cyndi Lauper album that I don't have complete. It's not as if I stopped ripping the CD half way either. I've a patchwork of songs from it. Definitely going to buy the thirtieth, then.
So it's 05:46 and Girls Just Want to Have Fun is in my headphones, I'm writing to you in Evernote, my email inbox is teetering, my calendar is throbbing and my OmniFocus To Do list is wiping its brow. Every part of that sentence, bar the stupidly early time, is tied up with my Mac.
And that's the one thirtieth anniversary I really am compelled to write to you about.
It's actually thirty years to the day that the Macintosh was launched. It would be perhaps five years before I used one but the Mac that launched in 1984 directly changed me: it stopped me being interested in computers. I know I'm talking to you about machines and that at least software tends to come up a lot with us, but that really is what it did: after I used a Mac, I wasn't into computers.
Maybe I never really was into them – I'm certainly not as technically minded as so very many people I know – but I think I enjoyed the puzzle of them. I definitely enjoyed all the fiddling with all the settings and the options. That day at school, right at the end of the last term, when I found out if you bash your head onto the keyboard in despair it would restart the RML 380Z and save you the usual twenty minute wait while a tape loaded. ("Oh, yes, I meant to tell you," said the teacher.) The way that I learnt to swear while just trying to fit a bigger hard drive into a PC. (I got it exactly right the first time, motherboard jumpers and all. But it still took me a week of increasingly foul evenings before I got it working by doing exactly the same right thing again.) The satisfaction, even the sheer victory of getting computers to work.
Bollocks to that.
Here was a Mac and it worked. I could write books on it. So I did.
I was still split between Macs and PCs because I got work as features editor on a PC magazine – which is also where I learnt that I am a magazine kinda guy far more than I am a computer one – but nonetheless, when it came time to spend my own money, I bought a Mac. I vividly remember my flat with its Mac and its CD player. (Oh! I played John Barry's Dances with Wolves soundtrack a lot on that CD player. Hang on – just switched to that on iTunes.)
A few years on, Apple bought me a Mac that had a TV in it. It was a time when Apple was doing badly and apparently its PR firm reckoned it could either spend a lot of money on ads that nobody would write about or they could just buy Macs for a lot of journalists and hope it would have an impact.
It had an impact. I had that Mac throughout the rest of my time living in London. I remember watching Alan Plater's Doggin' Around on it. Sitting in my narrow flat, eating my then healthy and obsessively favourite meal of French bread pizza, waffles and sweetcorn, watching that TV. You must've been able to record TV on it because I clearly remember watching Northern Exposure when the phone rang and then when I continued watching, the sound was vastly poorer. Mono instead of stereo.
I remember later using a review PowerBook Mac, I think the first with a colour screen, and seeing that screen permanently die in front of me just as I finished writing something. Saving that document, copying it to a floppy disc, gathering up all of my work and copying it off to many floppies – all without being able to see anything at all on the screen. Oh! Another PowerBook Mac, another day: being late delivering an article to Macworld and, knowing the editor would be at the same press launch I had to cover for PC Direct, writing the whole article on a PowerBook on the Tube train on my way. Handing him a floppy.
I don't miss floppies, I'm not compelled to write to you about floppies.
But I am clearly compelled to write about the Mac today. I'm curious how the one thing I would tell you about these machines is that they get out of my way so that I can get on with writing books, talking to people and watching Alan Plater dramas, yet even as I can forget the computer entirely, I remember that I am forgetting it. I heard an argument once that said Android phones are always so bad that you are driven to upgrade where Apple wants you to like your iPhone so much that you upgrade to get more of the love or whatever. I don't know enough about Android to judge that: Android phones seem to me to be great for fiddling with and that's very nice. But I think there's something to it.
I could not tell you the name or manufacturer or any single thing about the PC that I spent a week inside fitting that bloody hard drive. Nothing. The image of tiny jumper settings is burnt into my retina and I could probably work out from a calendar which version of Windows it had. But I'm not going to.
Whereas I can tell you with impossible fondness that my first Mac back in the 1980s was a Mac SE running System 6.
Ironically, the books I wrote on it were all computer manuals. I remember the boss of the technical author department regretting having bought Macs. "Seriously?" I said.
"Yes."
I think the man was just bored with his job because he explained that it was because PCs were different. That's all. He wanted a change. Hadn't tried Windows, didn't know anything but that they were different to Macs.
Can't fault him for technical accuracy, then, and it is entirely coincidental that I left shortly afterwards.