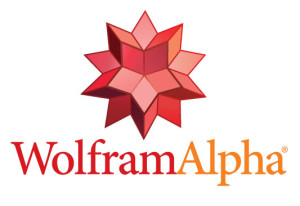 I'm just after telling you that it is 265 days since The Blank Screen news site launched – but I didn't tell you how I knew that.
It'd be good if you thought I was some incredibly organised savant type but, no, I just know about Wolfram Alpha.
You'll think it's a search engine when you see it but rather than looking for websites that happen to have something like the answer you want, Wolfram Alpha does its best to work out that answer. It's easier to give you examples so here are the last few questions I've asked it:
How many days is it since 26 November 2013?
How deep is the English Channel?
What percentage of 2Gb is 250mb?
What is the date in 934 weekdays?
How far is New York from here?
What is 16% of 919.86?
When is mother's day?
I need to explain that last one: mother's day is on different dates in the UK and the US and I get easily confused. I'm sure one year my mother got two presents though, curiously, she didn't complain.
I'm not saying that Wolfram Alpha is flawless: I asked it what the tourist population of Paris was and it threw up its hands. (I worked it out from a combination of tourist board information and general Paris statistics though, maddeningly, I can't remember it now. I do remember looking out across from a café and being sure that something ridiculous like four out of five people I could see would be tourists.)
I am saying that not enough people know about Wolfram Alpha and when it's the right tool for you, it is superb. Plus it's free – with an option to pay for a premium version – which you can go to right now on the web at the official site. You can also get an iPhone or an iPad app for it.