One of my books was peer-reviewed by an academic who criticised the first draft with the comment that the first third was plainly rushed. The last two thirds, he or she said, were clearly far more considered and therefore vastly superior.
You know where this is going, don't you? I'd spent five months writing the first third and one week doing the rest.
That wasn't through some disinterest in the ending, it was more that I found it hard to start. Not in the sense of putting my backside down on the chair, rather that I had to find the right point and the right tone to start the book or the whole thing wouldn't work. It was very important to me and I wanted to get this one right, more than ever.
But pondering turned into paralysis and though I was writing away all the time, I was really rewriting. I have no idea how many goes I had at the opening chapters. I just know that the deadline got frighteningly close and that suddenly I was having to write at speed and at 2am.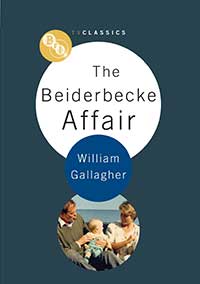 Stuff it, I'm going to tell you. The book was my first, BFI TV Classics: The Beiderbecke Affair (UK edition, US edition). It was important to me because everything is, of course, but also it was my first book. Plus it was about The Beiderbecke Affair, the 1980s drama serial by Alan Plater that either you don't know at all or you are already humming the theme. It's astonished me how many people have written to say they loved that show and also that they really believed they were the only ones. It was a show that felt like your own. It was that personal. I think it was Alan's best work and that's saying something because he wrote 300 or more scripts for television, stage, film and radio.
He was also a friend. He died in 2010 and not many months after that, I phoned up the British Film Institute to propose this. Someone should do a bio of Alan but I can't, that would turn a friend into a journalism subject. But I could do Beiderbecke. I could really do Beiderbecke. It's personal to me just as it is with so many.
Here's how personal it got. I have roller blinds on my office window but I've never got them to work. They're just hanging up there at the top, half stuck in knots. And it's a big window. So at 2am, the lights on in my office, the dark night outside, that big window is a mirror. Even under deadline pressure, I was getting really, really, really intense about a particular point to do with the show. And I promise you I saw Alan Plater reflected in the window. He was leaning back in his chair, lighting up a cigarette, and saying that it's only a TV show, William.
I didn't have time to rewrite the last two thirds much. But I also didn't need to.
Even when I went to the second draft – and I must say that anonymous academic had a lot of really good points that I stole, as well as some that I just ignored – I didn't have to change the back of the book.
Sometimes, you just have to press on and, sometimes, that works. I've discovered that my top writing speed is twenty pages of script or 10,000 words a day and that I can keep that up for about eight days in a row. Whenever I've had to do that, it's been with the full realisation that I'm going to have to change a lot later. Edit, improve, fix, rewrite. It's true. But even in those times, it is remarkable – to me – how much doesn't have to be fiddled with.
Stop analysing, just do it.
And then analyse later. I'm not advocating being careless about your work, but I am saying it's easier to change something than it is to make those first marks on the page.