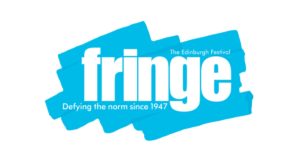 It would be really good, I would feel really great, if you just read the next sentence and then looked away.
I've now performed at the Edinburgh Fringe Festival.
Okay.
Not really. I was in the audience for maybe 15 comedy acts or so and twice I was repeatedly called on by the comedian, once I was both called on and called up. I have now stood on a Fringe stage being laughed at. Now that I think about it, I'm not sure why I felt this was good.
But while I was climbing through an unstrung tennis racket – you had to be there – and later when Tim Vine was asking if my face always looked like this, I was thinking about the workshops I do.
I run day-long things, half days, two hours, one hours, all sorts and in every case the job is showing people something so you're getting them to do it. It is entirely audience participation, but it doesn't feel as heightened or as clenching as it does in a comedy because it's continuous through the day.
Also because I'm the one calling on people, not the one fearing being called. That does make it easier, you're right.
I was thinking how it's actually quite hard to contribute to a show if you're used to running them. I'm really not comparing my workshops to comedy sets, neither in good or bad ways, but it is all performance. So when a comedian asks you to describe something, you want to do it, you want to provide what she needs for her act, you're more than willing to be laughed at, but you don't want to actually perform. You don't want to get in the way.
It's their show, not yours.
I'm not saying that this is a huge issue or that it's somehow unique to me as a special little flower but it was one of the two things that kept crossing my mind every time it happened. The other was to wonder why I'd chosen the front row again.
But then I saw Ivo Graham.
He's a standup comic who does plenty of audience interaction which this time did not include me – and did include hecklers.
I loathe hecklers. If you know someone who heckles at comedy acts, give me their work address: I'll pop over tomorrow and drunkenly interrupt them at their job.
The best comedians can get a very big laugh out of reacting to a heckle but when they do it that well, as Graham did that night, the stupid hecklers think they're responsible. That their half-pissed spontaneous call out is what's funny, not the maybe hundreds of hours of work that the comedian has put in to be able to deal with them.
Ivo Graham was the only one of all the acts I saw that got heckled and it is of course unrelated to the standard of his material. He is very good and he is very funny and he was on Friday evening. There you go. The hecklers were fuelled by alcohol and I imagine Graham had to have a few after the show himself.
You get that I abhor hecklers, you get that I admired Graham's handling of them. What I liked, though, the only thing I actually liked, was the rest of the audience. Even Graham himself commented in the middle of asking the audience questions that it was great and funny how there'd be a heckle but immediately someone else would call out a serious answer to move it all along.
That was good and that worked. The whole act worked very well, it wasn't even soured too much by those hecklers. But I did tweet Ivo Graham afterwards to say how deftly I thought he'd handled them. He replied saying it had definitely been an eventful night, hadn't it?
But.
This is a week ago now and I'm still thinking about it but not for the hecklers and not for how this or any comedian reacts to them. I'm thinking about it because I watched some YouTube videos of Ivo Graham.
Like all the best comics, his act on the night feels fresh and new and like he's just chatting with you. Of course you know that it's written and rehearsed but there's a lightness and a bounce and it's engagingly new. Watch the same comic on YouTube and, whoever they are, you'll often see the same act.
Fine, but what fascinates me is when you see something that is an earlier version. The internet and how much gets recorded, how much gets kept forever and made immediately available, it means we can now often see the development of an act. See which lines stay the same, which get tweaked or added or dropped or tuned.
Comedians are like poets, I feel, with every syllable considered, every pause planned and none of that effort meant to be seen. It's the same swan analogy that you can apply to all writers, all shows, but with much of the development being done in front of audiences.
There is one workshop I do in schools that, just between us, I've now done so often that it truly feels like a scripted show. Of course it's always different, of course each school needs different things. Yet still, there are many times when I feel I've slipped into the script and I know when I'm going to get a laugh out of these kids.
I'm a writer so I'm obviously focused on the words but in these cases I am a performer and there is a physicality to it. A pause, a just-remembered, an oops-forgot-to-say kind of stance and gait that I will do that will always get a laugh.
And it does have audience participation. I forgot this. I have a thing, close to a rule, that if you walk into a workshop of mine then you are part of it. And one day in a school I was in mid-flow when a teacher came in to borrow a pen. All he did was come in quietly, get the pen and leave again, not once breaking stride but during that time I had got the kids to cast him as a Doctor Who monster and he had acted the part. Left growling. Did it perfectly.
So naturally the next day when I was in the same school with another class and their head teacher came in to borrow something else, I did the same thing.
And he didn't.
Just looked at me like I was dirt.
He walked out of the room reeking with disdain.
It was a silent heckle.
And when the door shut behind him, I just jerked my head toward the ceiling – and got a huge laugh from the kids. I was funny and we bonded and it started with that heckle but, you know, it was me, not the heckler.