"@WGallagher enjoyed the session today at Benson. Gave me some good ideas to put into practice. Many thanks"
"All of the parents of the children whose scripts I sent to you described it as the highlight of the year!"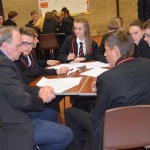 For a writer, I talk a lot. The only people who talk more are the schoolchildren, teachers, professors, parents, book group members, musicians, actors, journalists and young offenders I work with. They always think I'm just coming to show them writing but they always leave having written new plays, stories newspapers and news websites.
"Been to @writingwestmids group in Polesworth where @WGallagher helped us compose 12 world-premier radio plays in all his tea-loving might."
Email me, William Gallagher, for a natter. I have a CRB, a thoroughly reasonable rate and a mouth on me. Every talk is designed individually for your age groups and curriculum needs. Sessions in the past year have ranged from single hours to full days and recurring weekly visits.
"Many thanks to @WGallagher for a fab session in our EN617 creative writing module. Absolutely brilliant life-changing advice! Oh and fun!"
Those most recent sessions include:
Schools:
Doctor Who
Scriptwriting
Journalism
Teachers:
The Blank Screen productivity
Creative Writing
Universities and Colleges:
Author talks: The Beiderbecke Affair, Blake's 7
The Blank Screen productivity
How to Get Rejected
Book groups:
Author talks
Readers and writers talks and exercises
Short stories
Prisons
Creative writing
Radio writing
Young writers' groups
Doctor Who writing
Creating characters
Writing plays
Musicians, actors and journalists
The Blank Screen productivity
Email to check my availability and for me to ask you all about what you're doing and what you need.